New patterns are always fun!   All the secret designing and sewing can finally be shown and shared which is almost the best part of the whole process.   The best bit is getting to see what you all do with the patterns.  That really is the amazing (and truly inspiring as well).
All of the patterns are available now for immediate PDF download in my shop, or if you prefer, paper patterns are almost ready and will be sent to you within the next couple of weeks.    There are 7 new patterns (phew!),  I'll share four of them with you today and the rest later in the week but (hint hint) if you head over to the shop you'll able to take a look at them all.
So, on with the show…
If you follow me on Instagram or Facebook you might have already caught a glimpse of this next quilt.  It's called Playing Around and quite literally got it's name after I was playing around on my computer one day.   It's what I like to call a one block wonder because the quilt is made with just one block.  There is no sashing to make after the blocks have been made making it super quick to sew for all levels of quilters.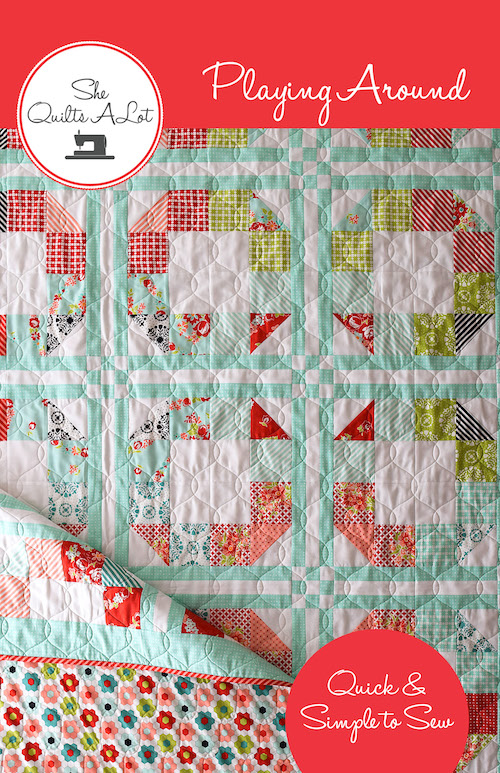 Playing Around Quilt – 81″ x 81″
Block Size 15″ x 15″
Fat Eighth Friendly
Available as a PDF or Paper pattern from my pattern shop.
The sample quilt for Playing Around was made with Bonnie & Camille's new fabric line, Handmade, which is just as delightful and pretty as all of their previous collections.    Playing Around would look just as good in any fabric collection or you could mix and match Fat Eighths from your scrap bins or stash to make a bright and fun quilt that's uniquely you.
Handmade fabric will be available in stores September 2016.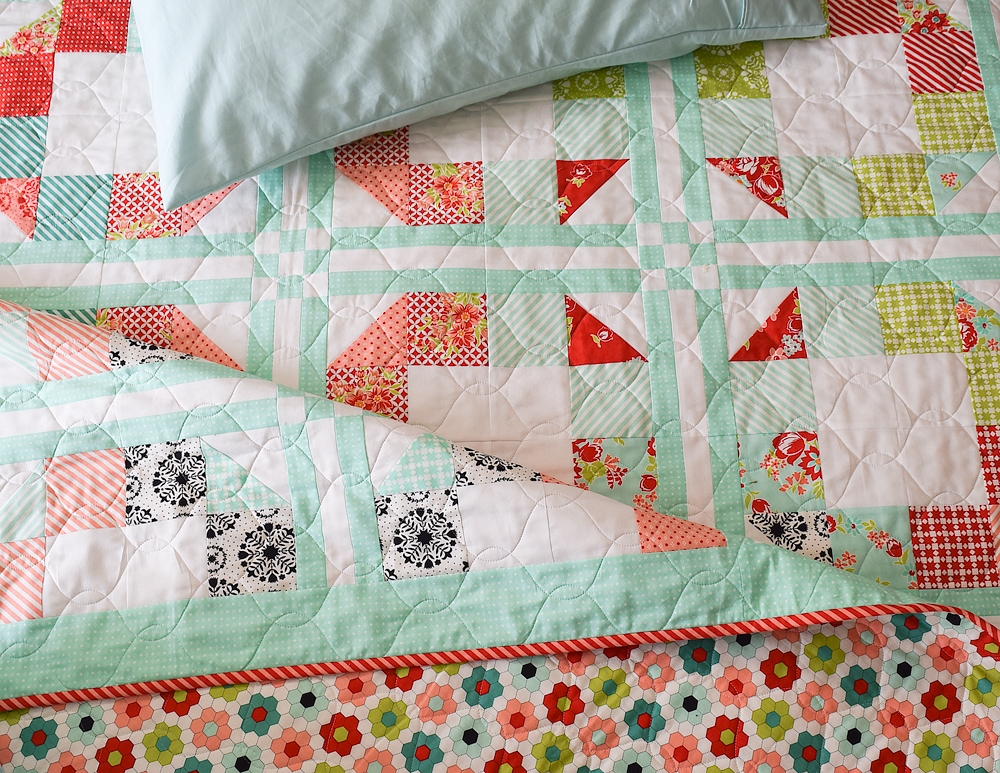 Playing Around was just asking for a little friend so there is a mini pattern available too….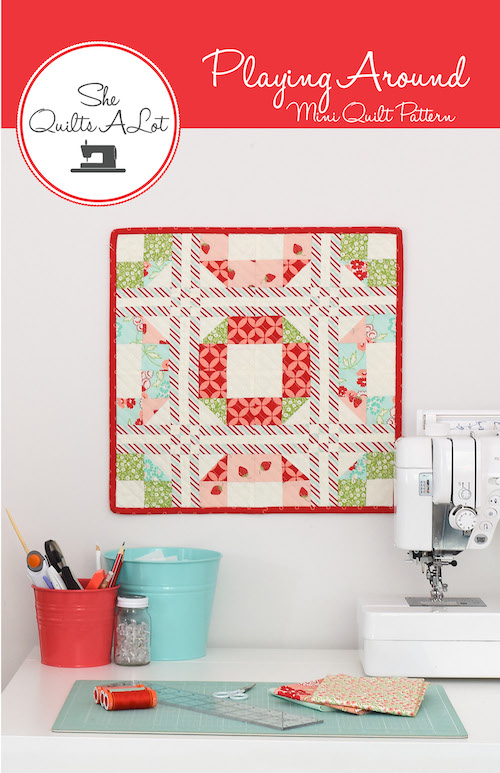 Playing Around Mini Quilt – 15″ x 15″
Block Size 7.5″ x 7.5″
Fat Eighth Friendly (or use scraps from your stash!)
Available as a PDF or Paper pattern from my pattern shop.
Next up is Bailey, he's a big fella and was designed with guys in mind.   The big 20″ blocks are made with strips cut from fat quarters.  Bailey is perfect for quilters of all skill levels and is a fun quilt to make!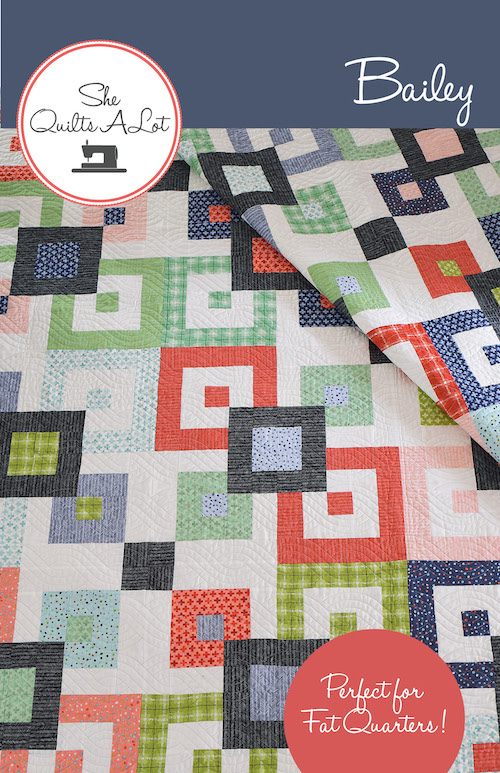 Bailey Quilt – 80″ x 80″
Block Size 20″ x 20″
Fat Quarter Friendly – you will need just 16!
Available as a PDF or Paper pattern from my pattern shop.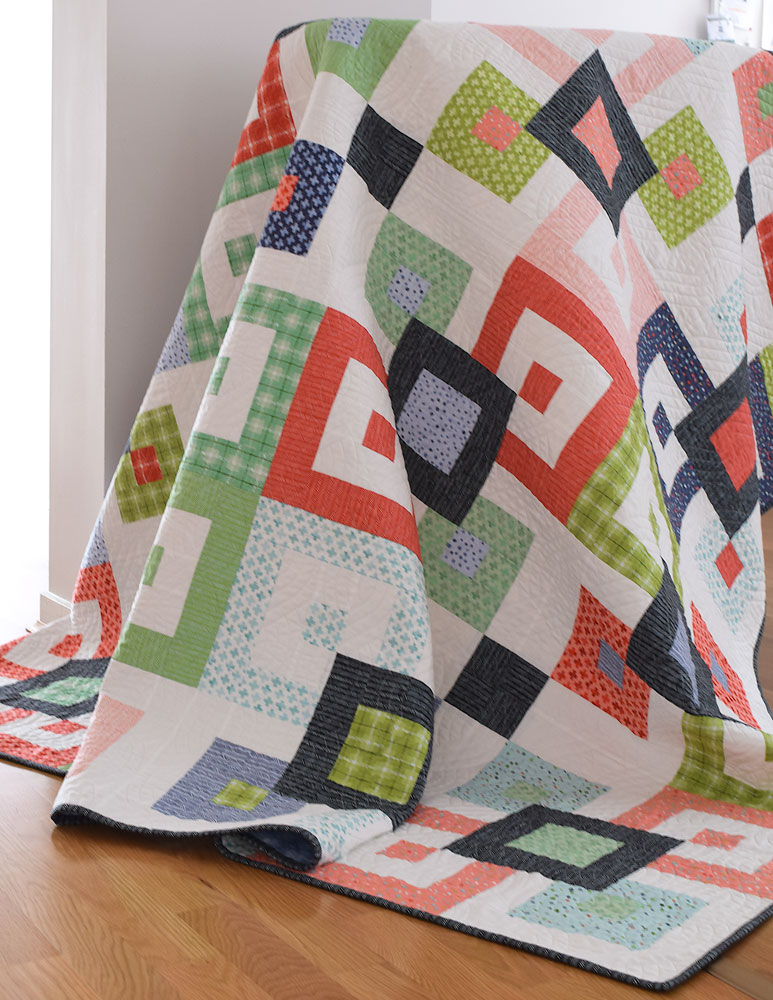 I used prints from 1Canoe2's latest range, Hazelwood, to make this version of the Bailey quilt but it would be just as easy to choose fat quarters from your stash in either guy friendly prints or, feminine ones if you prefer.
Hazelwood will be in stores in October 2016 but… I have seen some early release precuts around if you love it as much as I do and can't wait until then!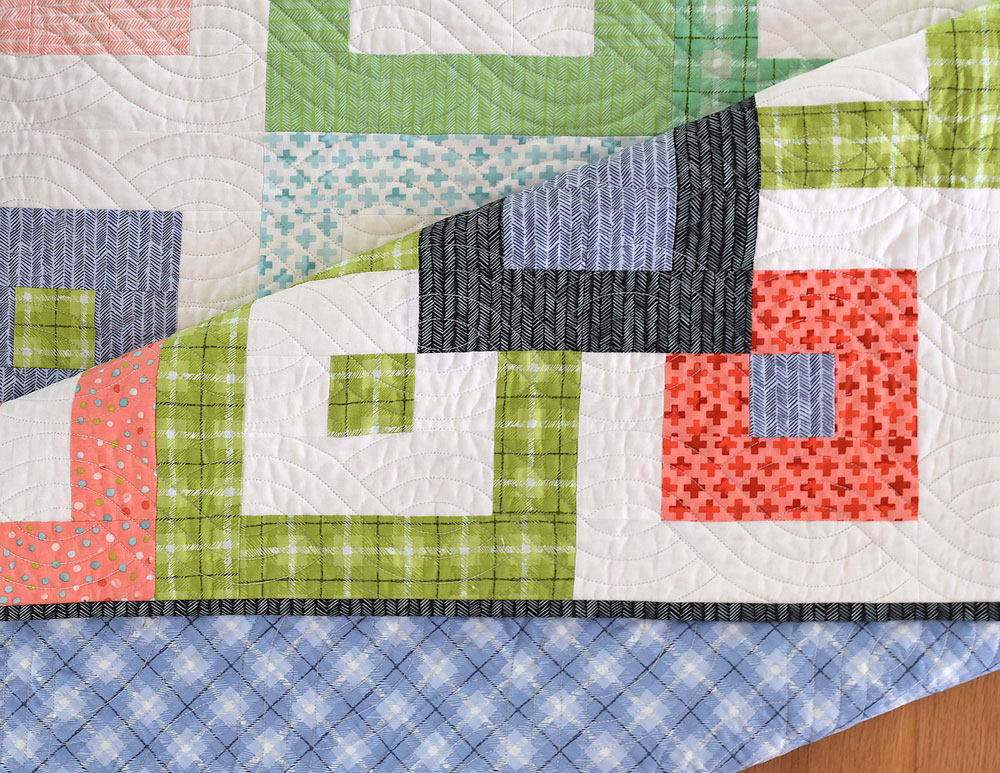 Bailey also has a little friend, the Baby Bailey, this quilt has been in the works for a some time while I worked on the yardage calculations.  I'm so happy to be able to finally share it with you all.   Just like it's big brother the Baby Bailey quilt is perfect for quilters of all skill levels and is a fast and fun quilt to make.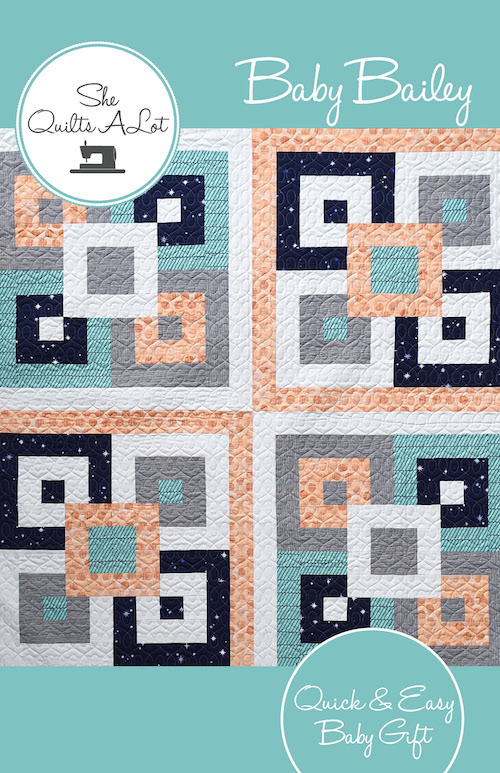 Baby Bailey Quilt – 48″ x 48″
Block Size 24″ x 24″
Available as a PDF or Paper pattern from my pattern shop.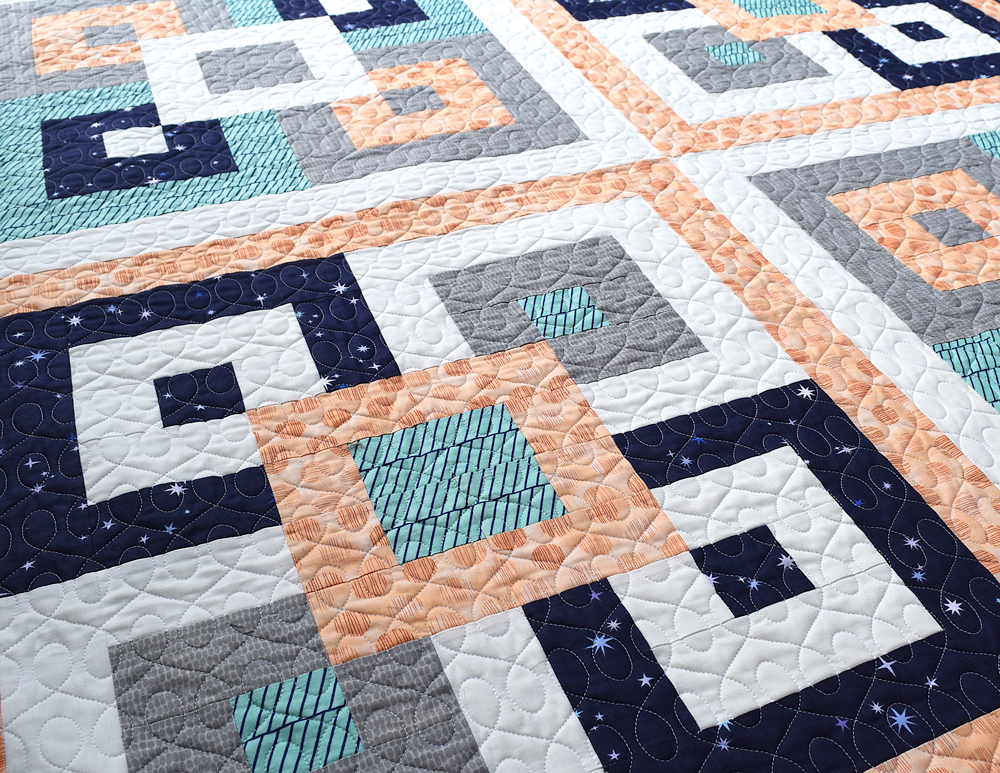 I first dreamed up Baby Bailey when I needed to make a baby gift.   I wanted something quick to sew that could be sewn again in a different colour palette or theme for a little girl or older child.    This will definitely be my 'go to' baby quilt pattern from now on!
You could follow the same colour palette for a little boy or swap out the orange and teal for pink and yellow for a little girl.  The possibilities are endless and I'm sure you will enjoy sewing this one as much as I did.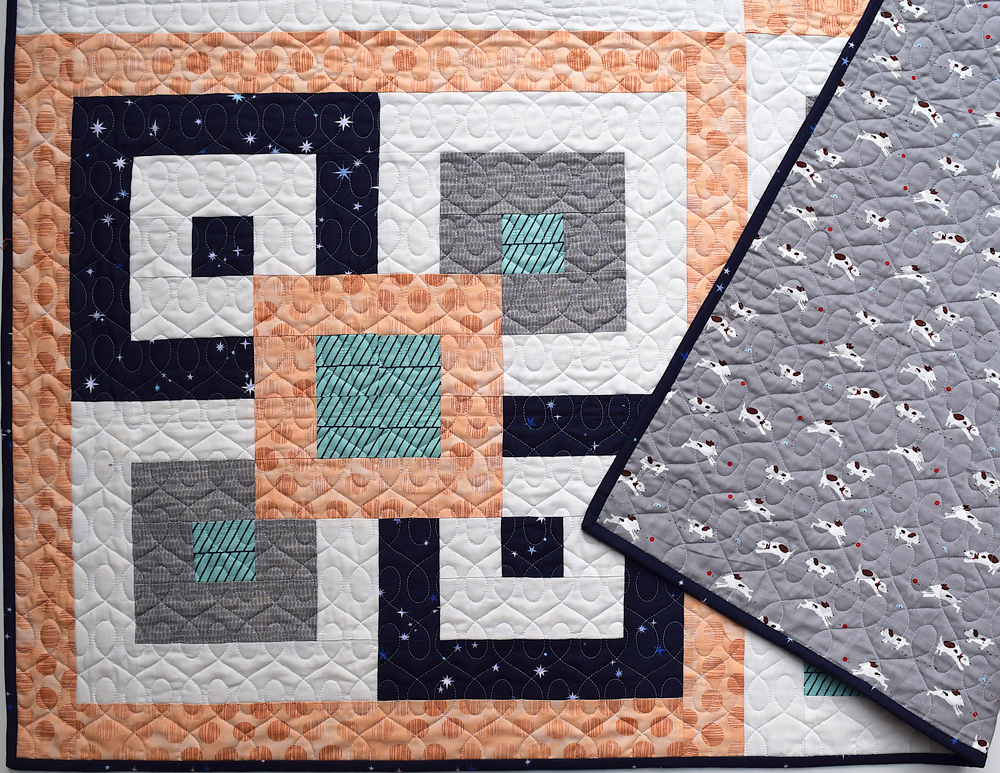 I'm looking forward to sharing the rest of my new patterns with you later this week.   If you can't wait… don't forget you can head over to the shop to see them all now.   I hope you like them.
Have a great week,