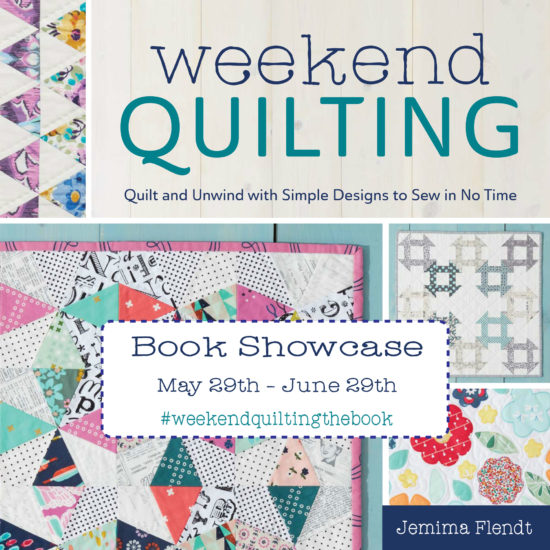 It's my absolute pleasure to be todays stop on the Weekend Quilting Book Showcase.   I'm lucky enough to call Jemima from Tied with a Ribbon my friend so I'm doubly excited to share her first book with you all!
Weekend Quilting highlights Jemima's love of teaching by stepping you through seven quilting techniques with beautifully clear instructions and diagrams.   You'll learn how to  perfectly piece Nine Patches, Half-Square Triangles, Flying Geese, Pinwheels, Triangles as well as all the skills you need to complete English Paper Piecing and Appliqué projects.   You can then apply those skills to any (or all!) of the 16 fun decor projects in the book.
I had a hard time narrowing down a project to make from Weekend Quilting because there are just so many great ones to choose from.   In the end I decided on the In the Middle Mini Quilt because… churn dash blocks!   They're one of my favourites.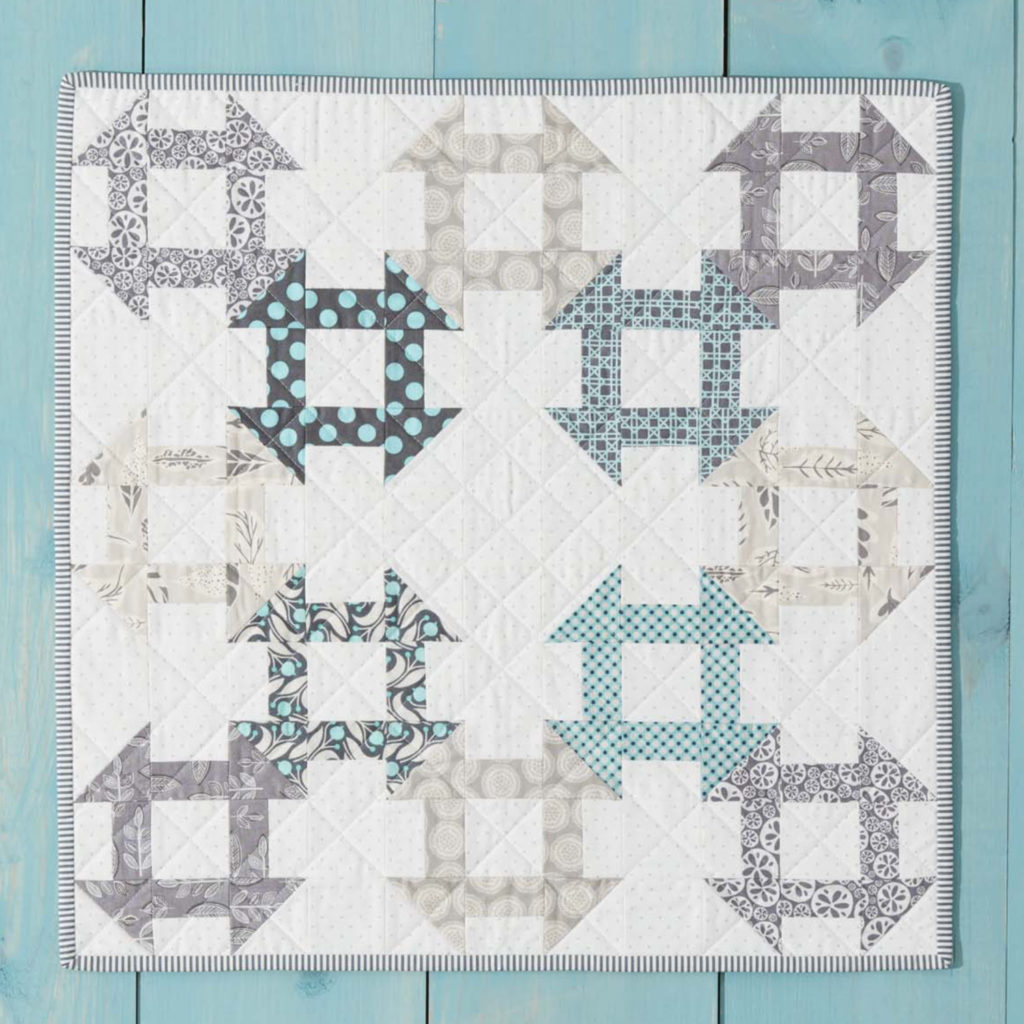 The instructions and diagrams for this project made making it a breeze.   In no time at all the quilt top was together and then it was just a matter of working out how I wanted to quilt and finish it.
Jemima has included instructions for making a zippered pillow back in the book so I combined the mini quilt with the finishing instructions to make this Euro sized pillow.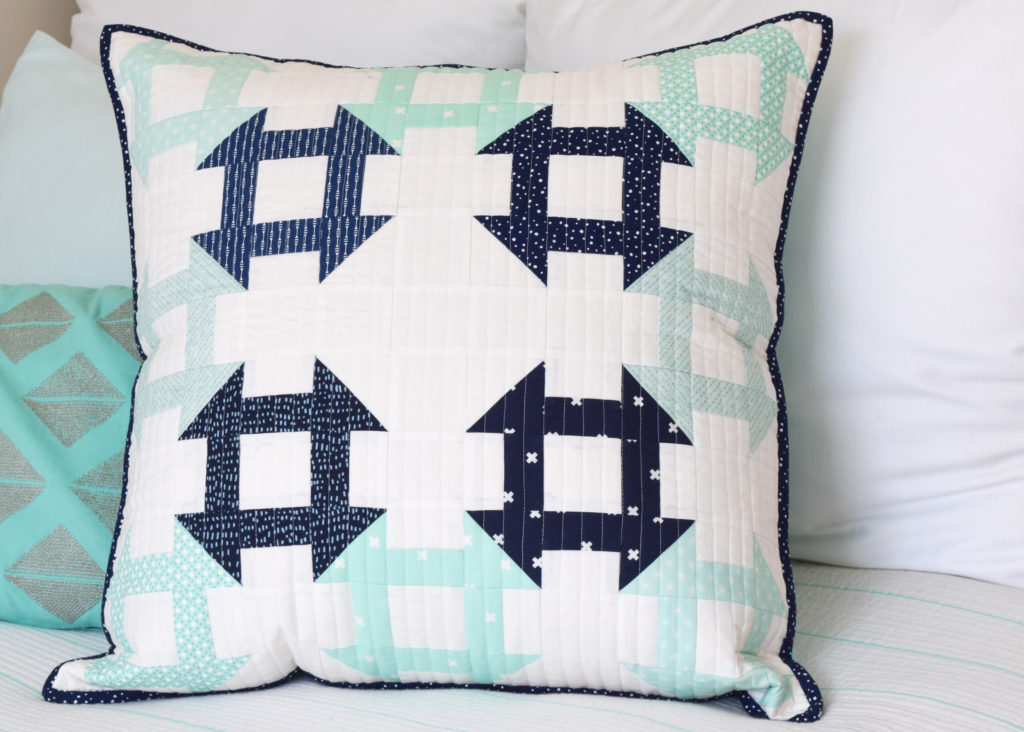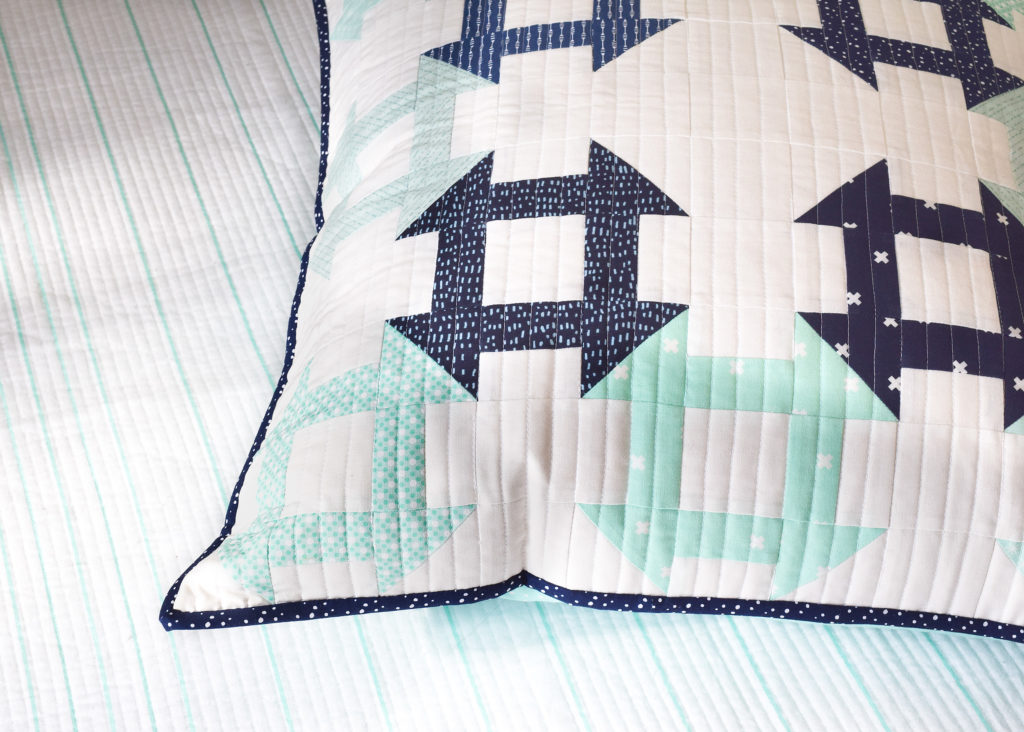 I used a simple straight line method of machine quilting on my domestic machine with lines half an inch apart.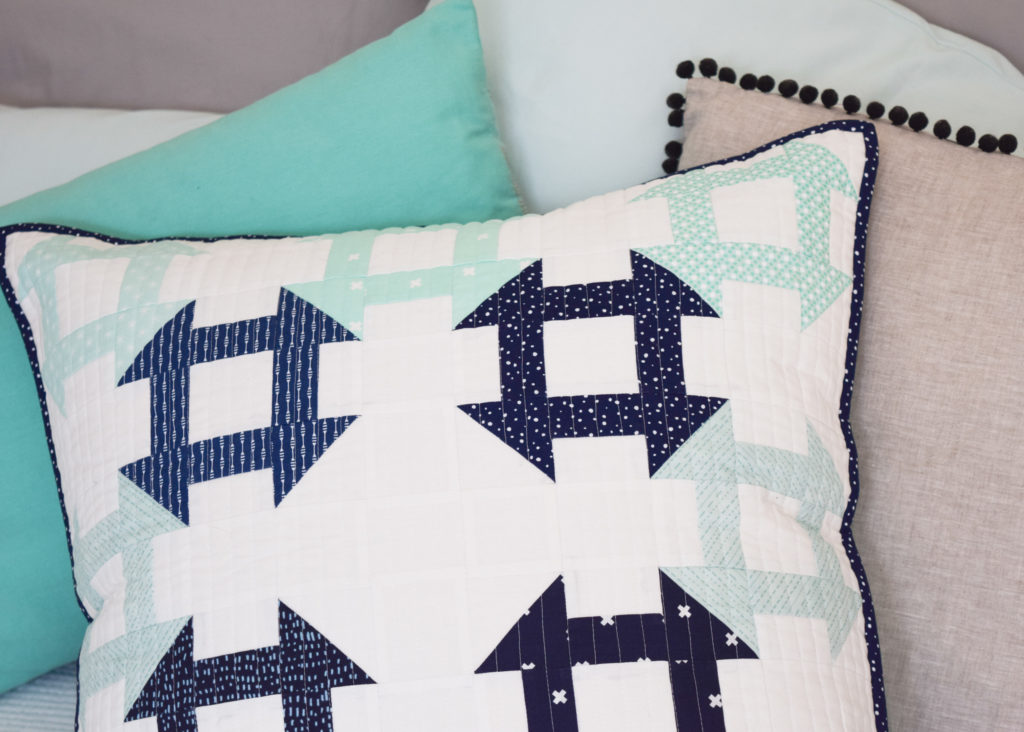 I'm super happy with how it turned out and, how it perfectly complements my daughters bedroom linen.   Quite unintentional I promise but clearly Georgie and I both have a bit of thing for aqua -:).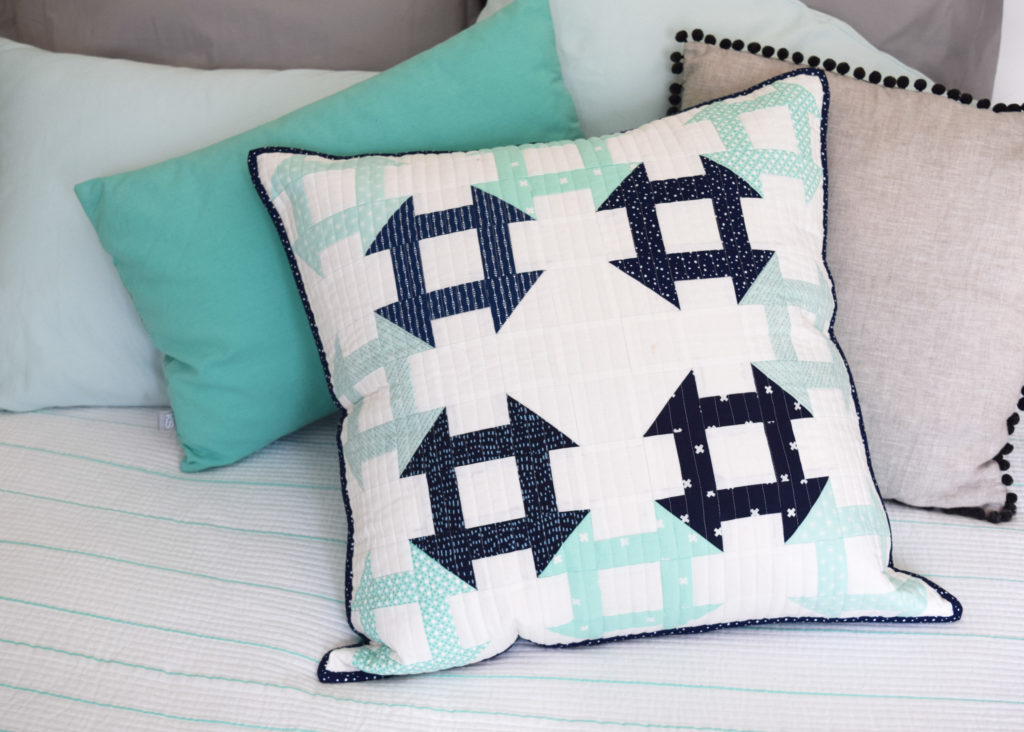 To make your own In the Middle Mini Quilt or any of the other great projects in the book you'll need your own copy of Weekend Quilting: Quilt and Unwind with Simple Designs to Sew in No Time.    You can get yours in just a few simple click from either Jemima's website or from a quilt store near you.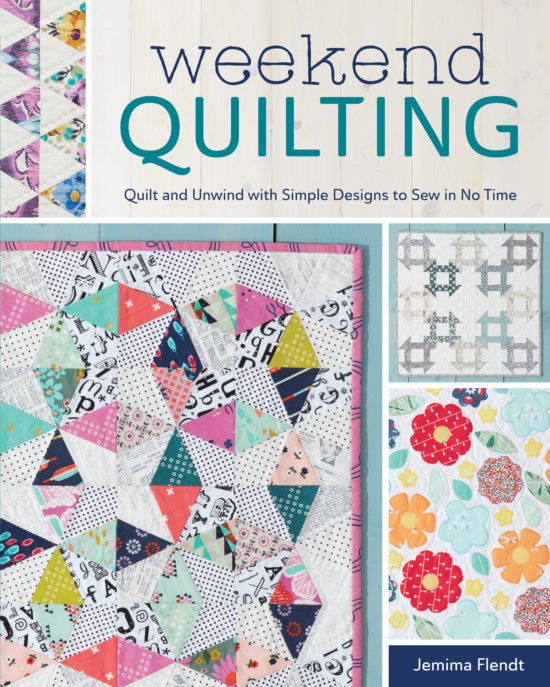 GIVEAWAY  CLOSED
I have a spare copy of Weekend Quilting to give away to one lucky winner along with a few charm packs from Windham fabrics to help with your first project from the book and, these nifty little Weekend Quilting project cards from Jemima.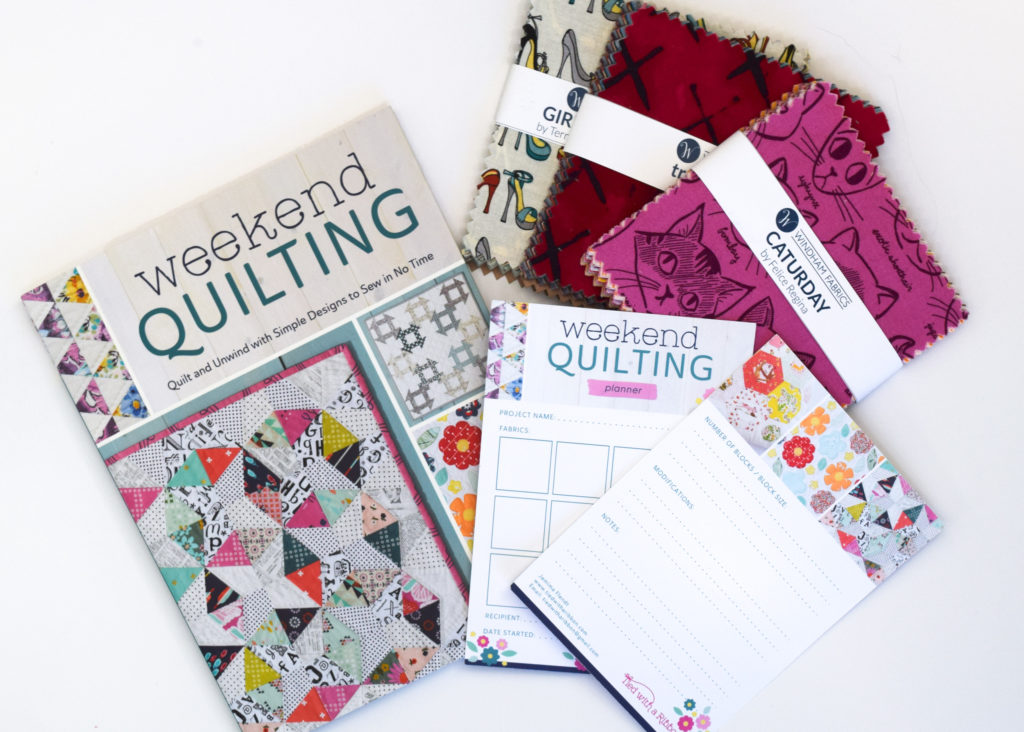 Thanks everyone for your entries into this little prize pack.   The lucky winner is Kristin.

The Weekend Quilting Book Showcase is running from May 29 to June 29.  Follow along for more inspiration from the book and more fun giveaways!
Mon 29th May           Lisa Cox – A Spoonful of Sugar Designs
Tues 30th May           Robyn Shapiro – The Strawberry Thief
Wed 31st May           Melissa LeRay – Oh How Sweet
Thurs 1st June           Emily Dennis – Quilty Love
Fri 2nd June                Samantha Dorn – Aqua Paisley Studios
Mon 5th June             Nadra Ridgeway – Ellis and Higgs
Tues 6th June             Peta Peace – She Quilts Alot
Wed 7th June             Stacy Olson –Stacey Olson Design
Thurs 8th June           Sedef Imer- Down Grapevine Lane
Friday 9th June          Elizabeth Chappell – Quilters Candy Box
Mon 12th June           Suzy Williams – Suzy Quilts
Tues 13th June           Rachel Howard – Family Ever After
Wed 14th June           Amy Sinibaldi – nanaCompany
Thurs 15th June         Jodie Carleton – Ric Rac
Fri 16th June               Ange Hamilton – A Little Patchwork
Mon 19th June           Heather Andrus – Quilt Story
Tues 20th June           Elea Lutz – Elea Lutz Design
Wed 21st June           Lauren Wright – Molly and Mama
Thurs 22nd June        Claire Turpin – Claire Turpin Design
Fri 23rd June              Jennie Pickett – Clover and Violet
Mon 26th June           Fat Quarter Shop
Tues 27th June           Alisha Orlando – Ministry of Fabric
Wed 28th June            Minki Kim – Minki Kim Sewing Illustration
Thurs 29th June         Jemima Flendt – Tied with a Ribbon