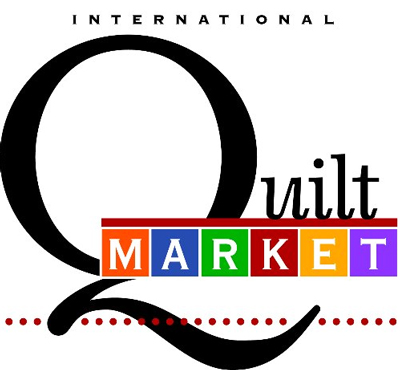 This time last week I was still in Houston, Texas absolutely amazed and in awe of everything I had seen at International Quilt Market!   I mean seriously, that place is nothing short of amazing and, for a first timer like me, such an exciting place to be.  To say I was a little overwhelmed would be the understatement of the year!   The first day just flew by and, thanks to some not so gentle encouragement from some friends back home, I did manage to pull my phone out of my bag on the second day to take some photos.   These are just a few of the awesome quilts I got to see.  Trust me when I say that there is nothing like seeing them up close and personal!
Not the best photo in the world but this Moda Designer Timeline quilt by Josh Dunn was just stunning.   It was part of the Making of Moda display.   Who wouldn't give for just a little bit of that selvage fabric!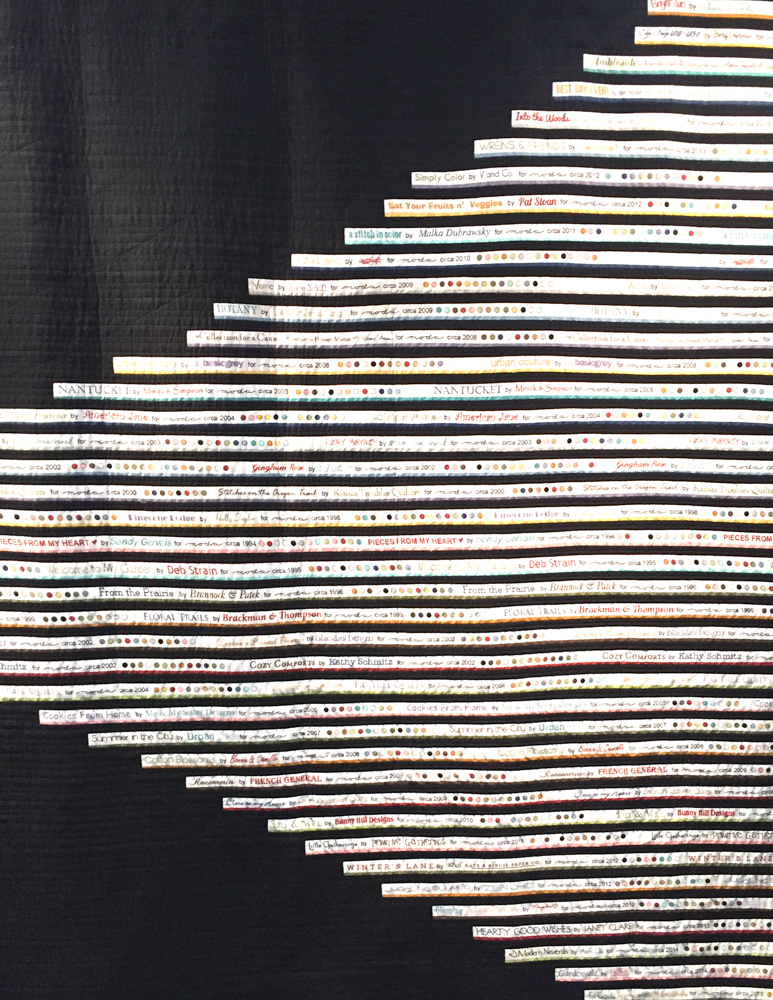 This gorgeous modern quilt is by Lissa Alexander and was also part of the Making of Moda display.  Lissa is so incredibly talented (Tone It Down is still on my list!) and this quilt was just spectacular to look at.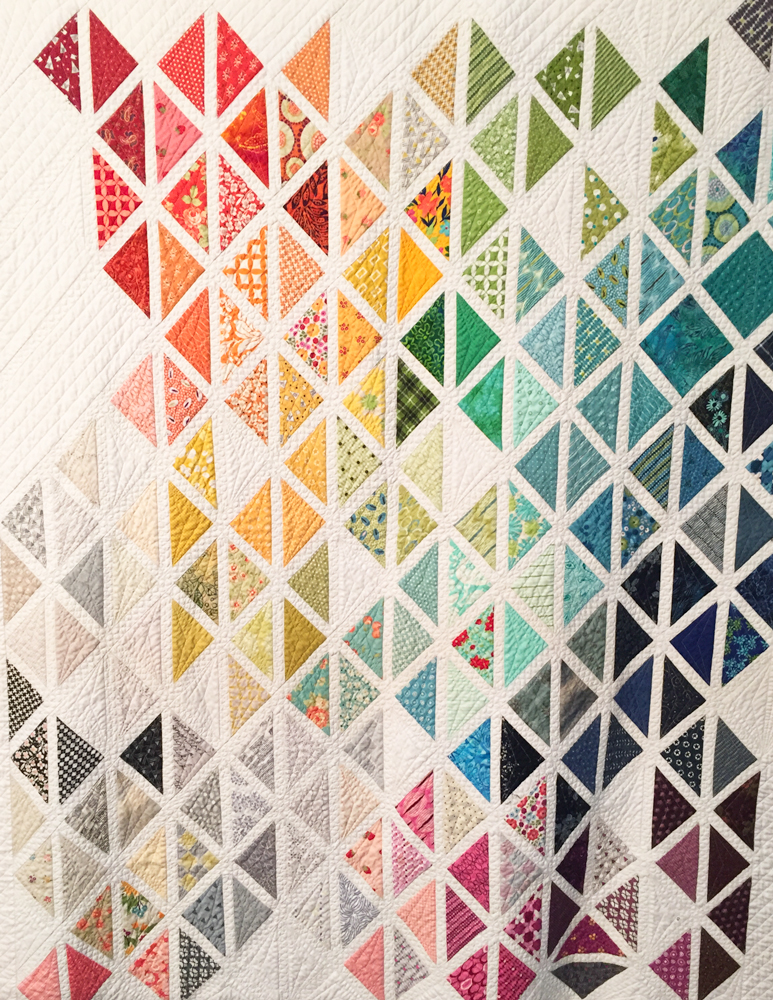 My favourite quilt in the Making of Moda special exhibit was this signature quilt.   It was so much fun looking through all of the signatures and spotting some familiar names from around the world.   Moda were collecting signatures for a future quilt and I'm quite excited that I got to sign a piece of fabric before I headed home.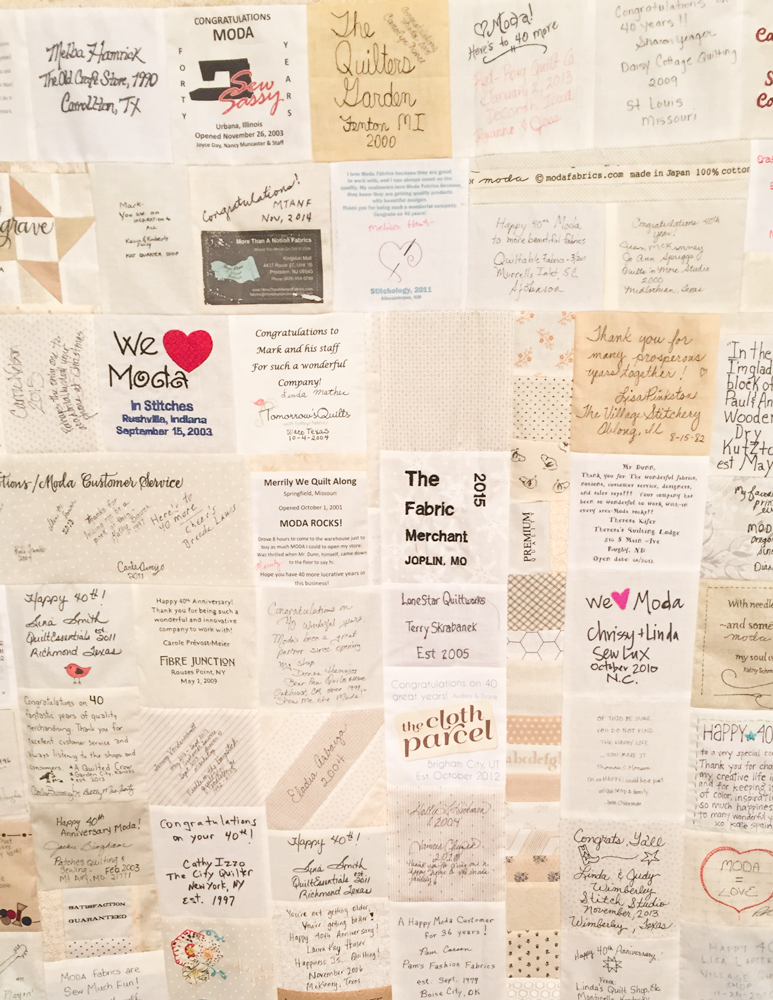 This giraffe quilt was hanging in the Fibreworks booth and was designed by Laura Heine.   Laura has a series of collage quilt patterns like this one and I may have purchased just a couple.   They were all truly stunning quilts and one of them is now on my list!   You can find Laura's shop by clicking here.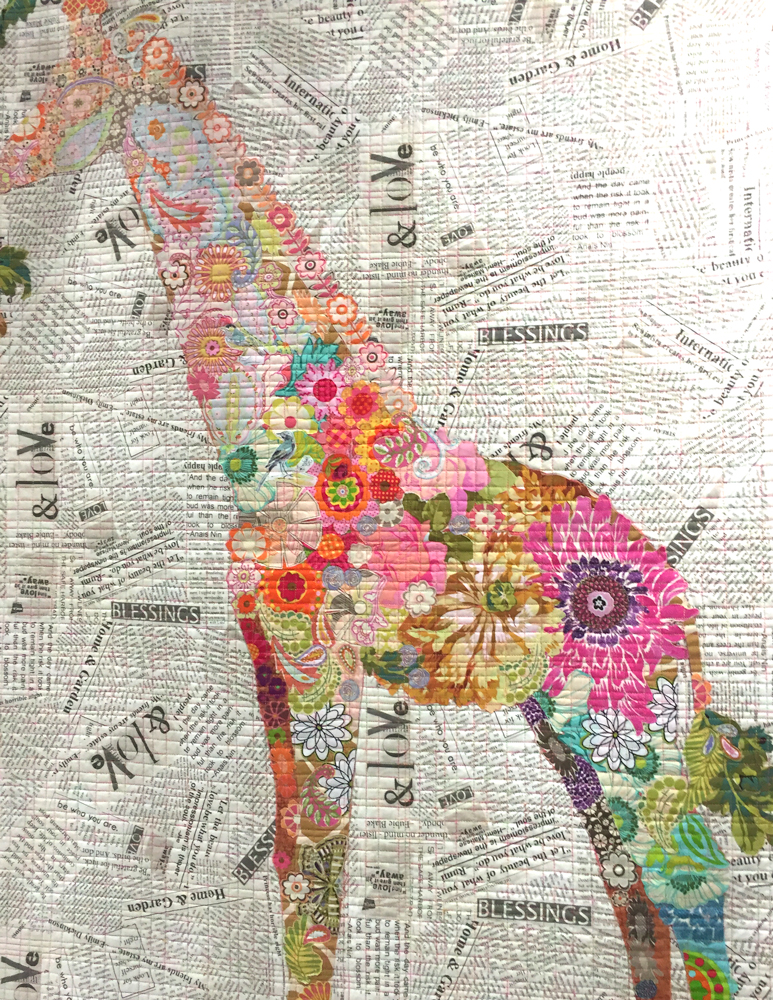 I call this next little series of quilts the Circle Quilts, they were both amazing!   First is Dot by Kathy York.   You can read all about this awesome quilt on Kathy's website by clicking here.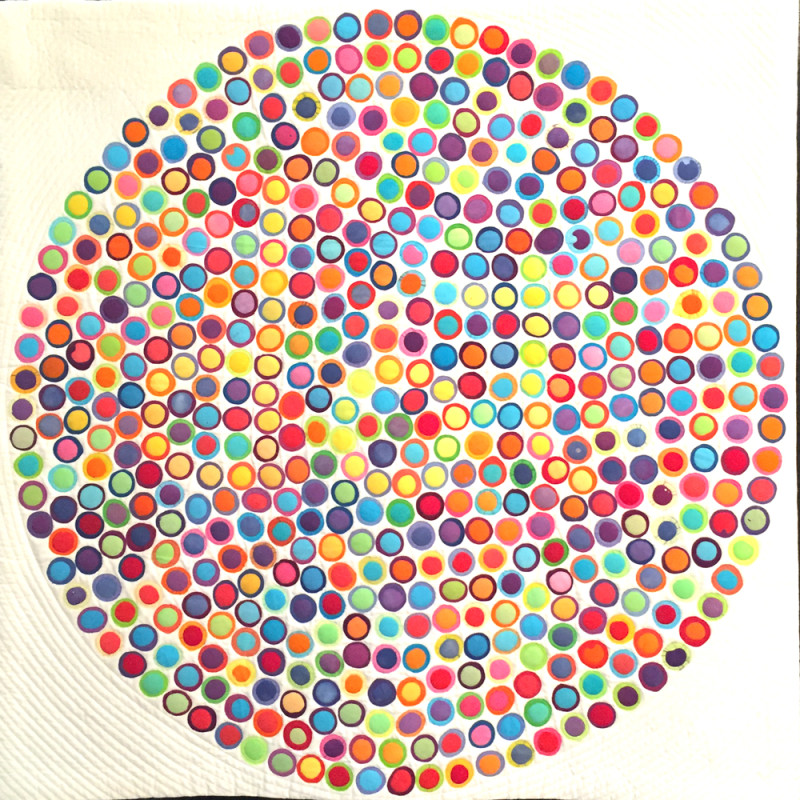 And then… this circle of wow! by Laura Gamaleri…   It took me a little minute to be able to read it all so I thought I'd pop what it says here…
Quilt! Life is short, live your dream. Quilt! Start creating, do what you love and do it often, share your passion.  Quilt!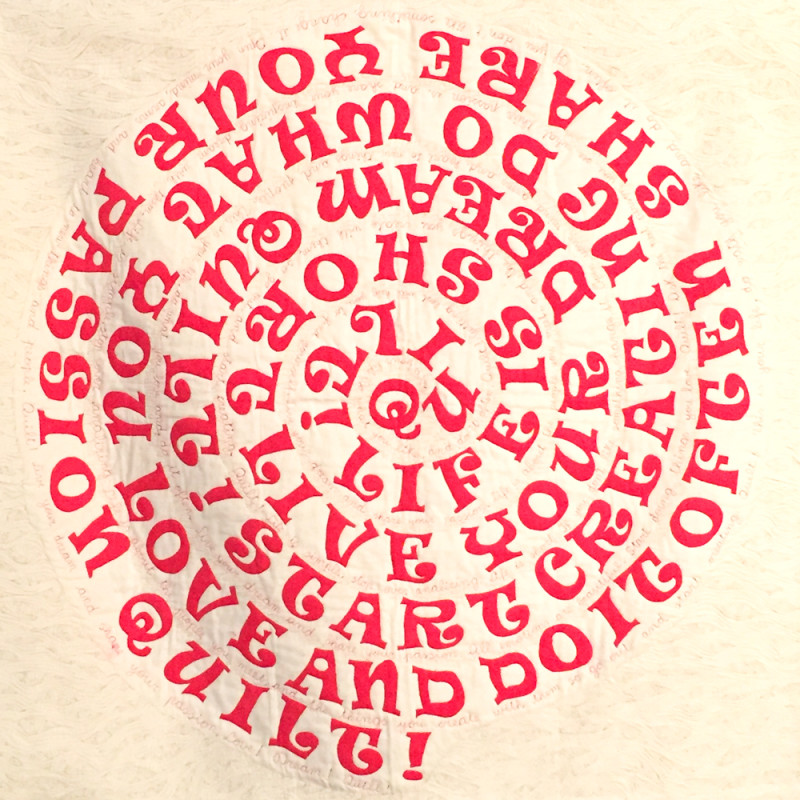 And in between all those words Laura embroidered more words.    Such a beautiful quilt!
I spent a little bit of time with the gorgeous Amy Sinibaldi's.  Her booth was just beautiful and it just didn't seem right to only take a picture of one quilt.  So I took a picture of the booth!   I'm really looking forward to having a play with Amy's first fabric line Paperie when it comes out.   It's just so sweet and so is Amy.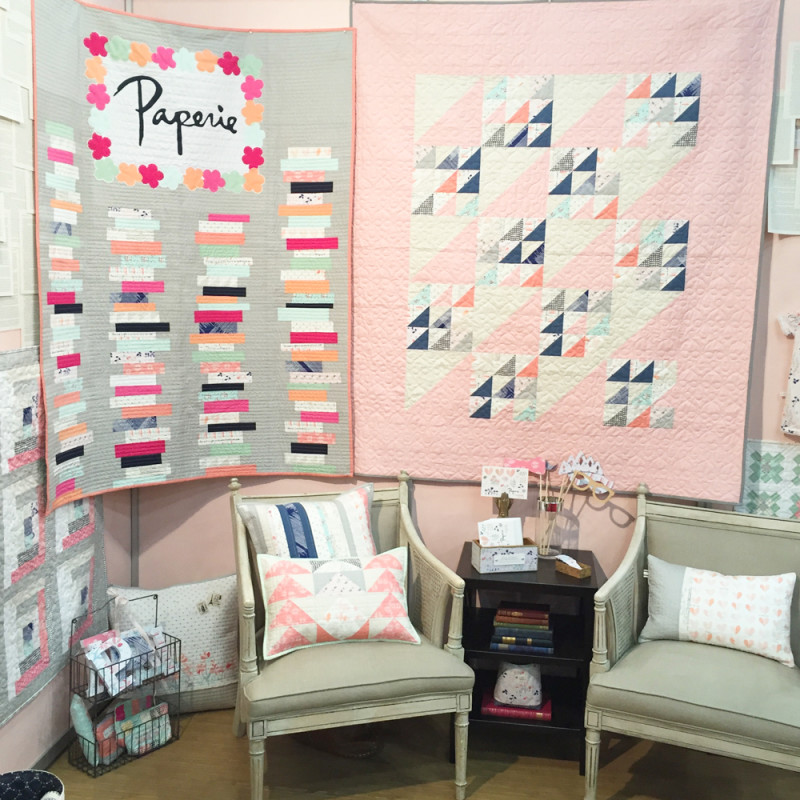 And last (I figured saving my favourite quilt until last was a good idea!) is this fabulous little quilt by Brigitte Heitland of Zen Chic using her soon to be released fabric line Flow.   Can I just say – I love this fabric line so much.   I can not wait to make a gazillion things out of it!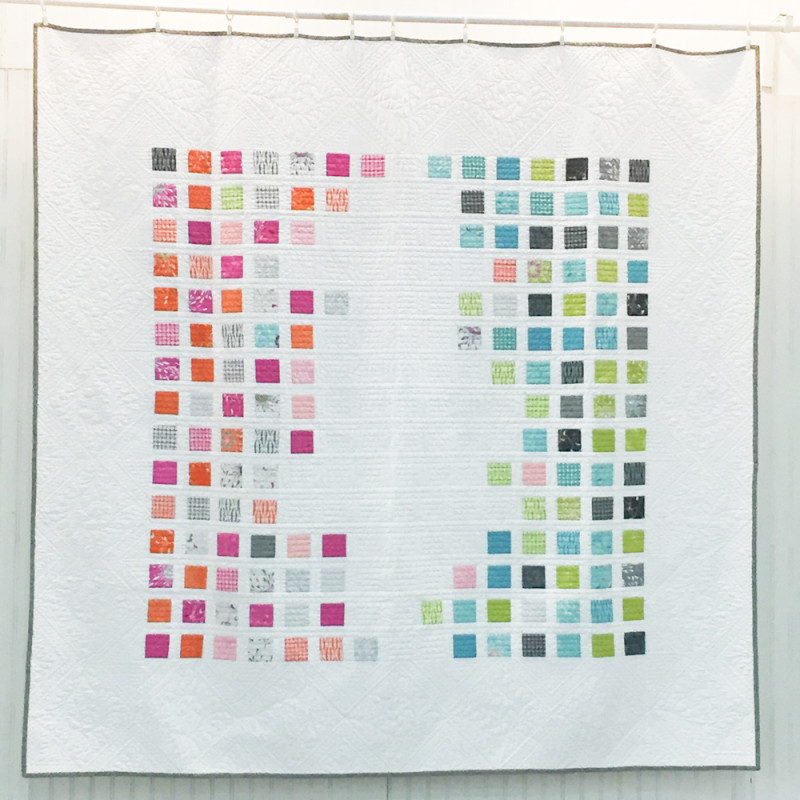 Like I said it was awesome and amazing and I still can't believe I was there!   Later this week I'll be back with Part 2 of my Quilt Market experience.   I hope you'll pop by and read all about it.
Until then happy quilting,