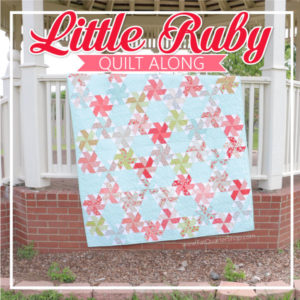 For the last few weeks I've been sewing along as part of the Fat Quarter Shop Little Ruby Quilt Along.  It's been heaps of fun learning some new tricks and it's always a bonus to get a new quilt (or two!) in the process.  The Fat Quarter shop teamed up with Camille Roskelley who designed the quilt using Little Ruby fabrics.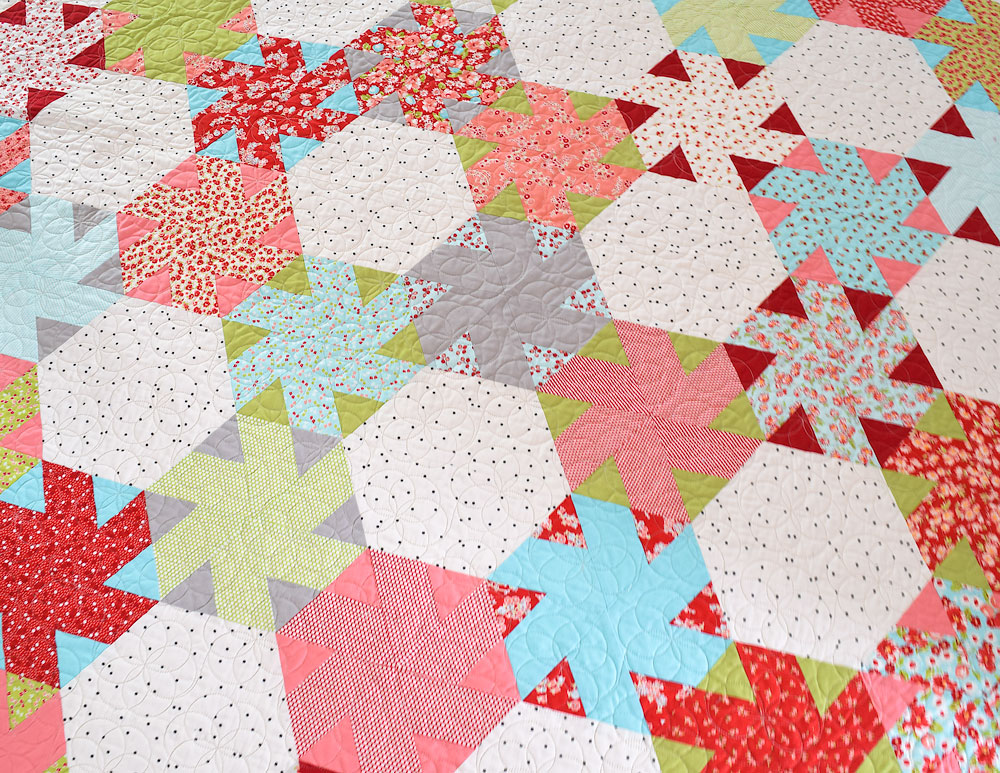 Through out the process of making these quilts I was a little worried about how the lighter background would work out.  It sure is different to the quilts that the other bloggers made but, I like it!   The low volume background just seems to make the prints and solids pop right out and the matching binding just works a treat.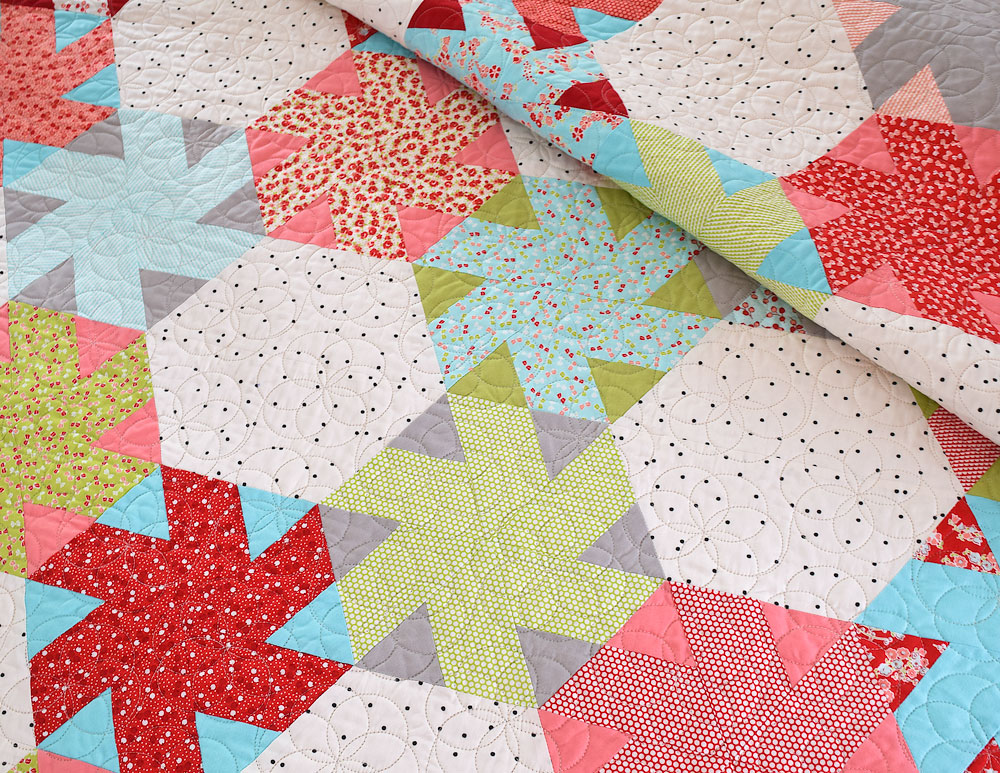 And since I forgot last time, big big thanks to my friend Tara, aka champion binding sewist!, who helped me out enormously by sewing the binding on this quilt and a couple of my new pattern samples (including the big one, Bailey).
Diane, my long arm quilter, quilted the Little Ruby quilt with this 'Flower of Life' pattern.  Such a cute designs and pretty perfect for this quilt.
One of the great things about the Little Ruby quilt along was that there was a second quilt  that could be made with the leftover pieces from the star block strips.   I sent the majority of those leftovers down to a family member who has just started quilting but I did keep enough to make a little baby quilt.   Using the solid strips meant that the blocks for the second quilt look much the same as the ones in the main quilt which was an added bonus.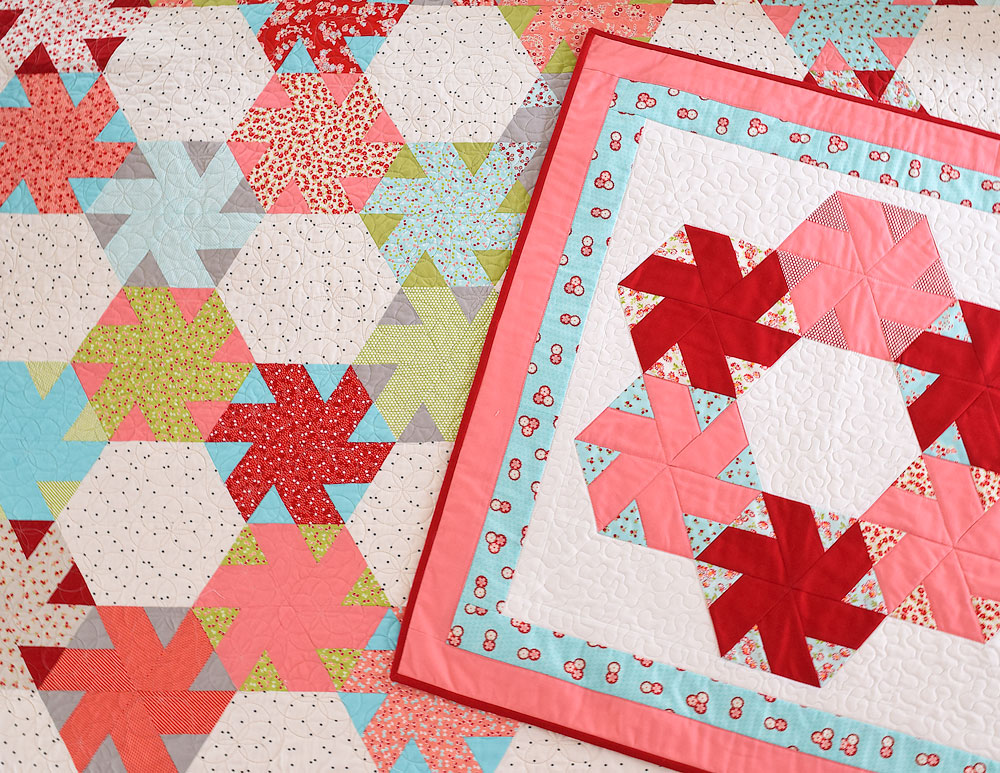 If you missed the quilt along you can head over to the Fat Quarter Shop blog where you will be able to find all the details about the materials and tools needed as well as links to YouTube videos to help you through each step.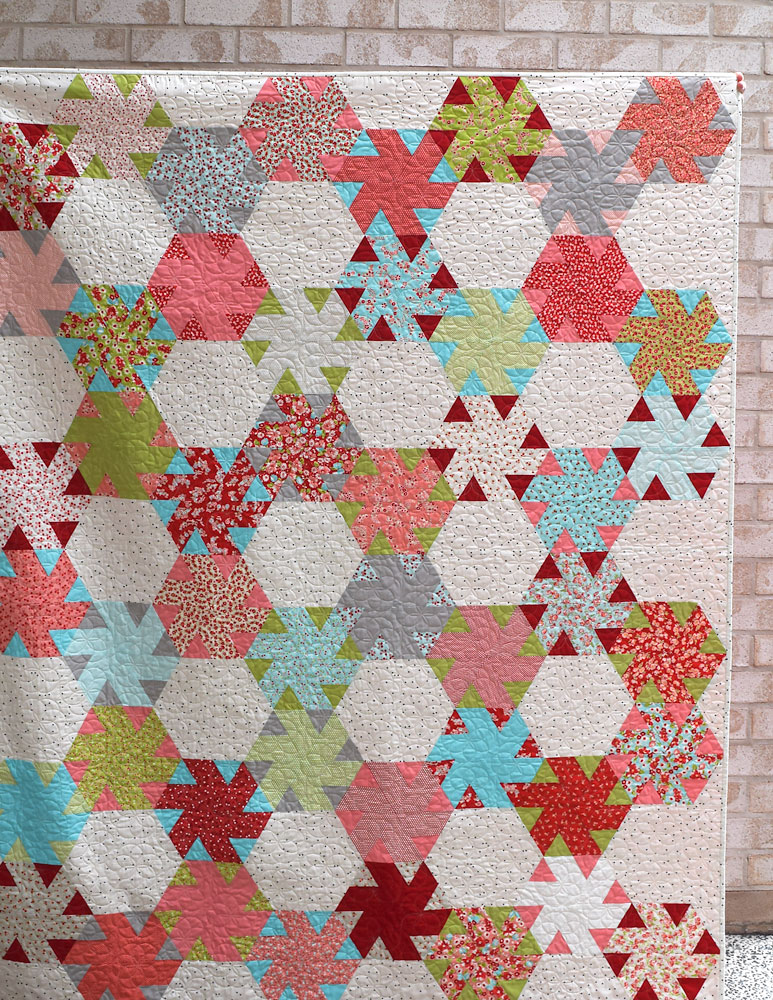 Don't forget to stop by and take a look at the quilts the other bloggers made, they're pretty awesome and are great inspiration if you'd like to make this quilt too!
Melissa from Happy Quilting
Angie from Gnome Angel
Erin Cox from Why Not Sew
Andy from A Bright Corner
Heidi from Buttons & Butterflies
Pat from Pat Sloan
Peta from She Quilts a Lot (thats me!)
Heather from Quilt Story
Megan from Quilt Story
Amanda from Jedi Craft Girl
Gerri from Planted Seed Designs
Sherri from A Quilting Life
Rebecca from Bryan House Quilts
Sherri from This & That Patterns
Jemima from Tied with a Ribbon
Alyce from Blossom Heart Quilts
Stephanie from Modern Sewciety
Brooke from Silly Mama Quilts
Carrie from Moda's United Notions
Have a great week,