Welcome to the Fat Quarter Shop Little Ruby Quilt Along.   I'm really happy to be sewing along with this new FREE pattern from the Fat Quarter Shop designed by one of my quilty hero's Camille Roskelley.  The Little Ruby quilt is simple and fun to put together and I know that you're going to love making it as much as I have!
For Part 1 of the Quilt Along we're all revealing our fabric choices but, before I get to that, here's all the information you'll need to sew along with us:-
You can purchase a Little Ruby Quilt Kit from the Fat Quarter Shop by clicking here.
A PDF is available to download that details all of the materials required together with cutting instructions for Part 1 of the Quilt Along.  Click here to download.
You'll need a couple of speciality rulers, the Creative Grids Hexagon Trim Tool and the 60 Degree Double Strip Ruler, both are available from the Fat Quarter Shop.  They're fantastic and I can't wait to use mine on future projects.
This quick video from Kimberly Jolly will run through everything else you need to know and provides some great tips and tricks for using those rulers!
Now…. back to those fabric choices!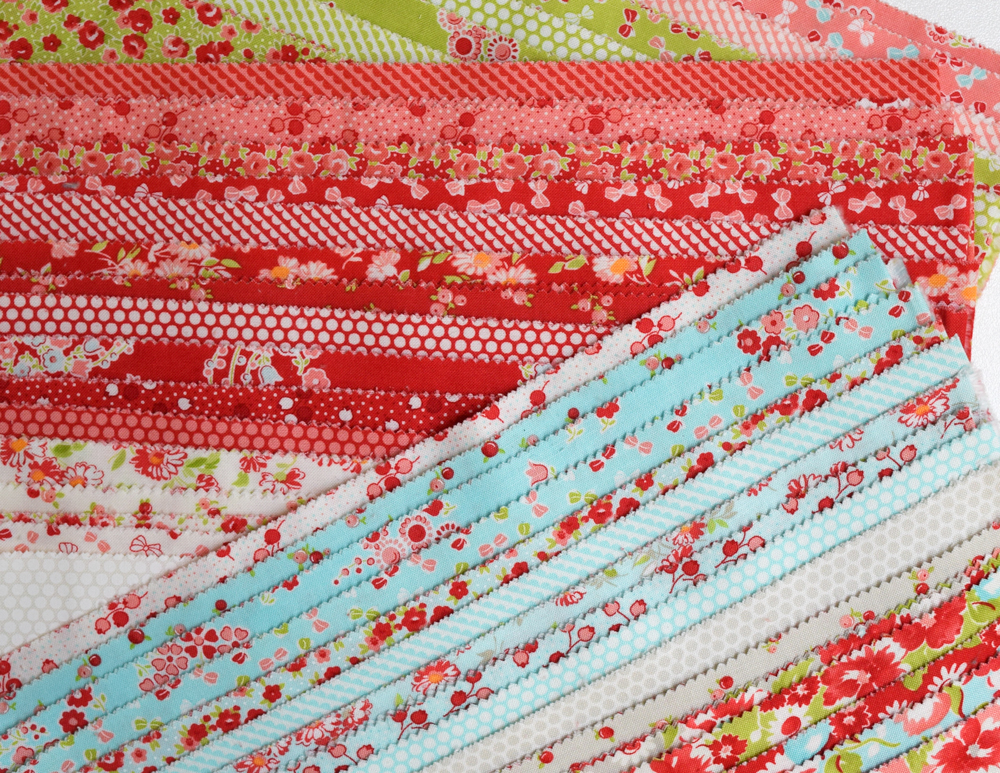 I was lucky enough to pick up a jelly roll of Little Ruby when they were available as a pre-release but, I could only get one, so I've improvised a little with my fabric choices.   I love the Bonnie & Camille Stash Pack the Fat Quarter Shop have curated so I grabbed a yard of each colour from them and cut 2.5″ strips from each yard to make up the extra 14 strips needed.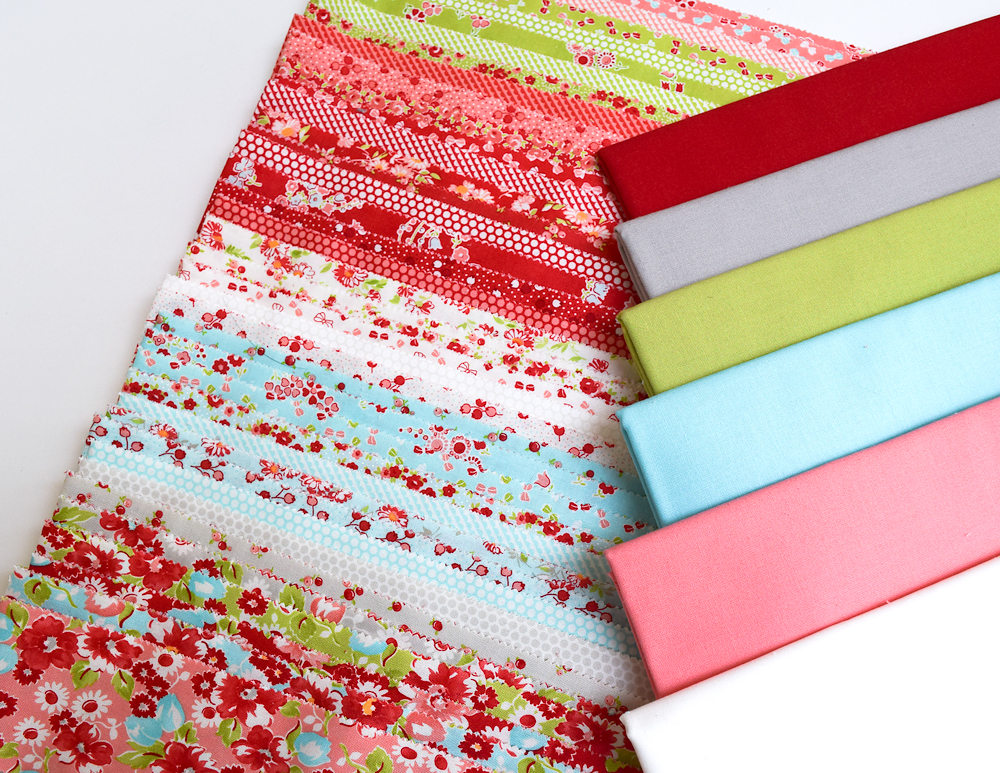 And then things got a little crazy!   I thought it might be fun to flip things around a bit so I cut another 54 strips from the solid yardage and have used them instead of the two white jelly rolls for the star blocks.  I also changed my background fabric to a neutral rather than the aqua print Kimberly used.   That may be a little hard to imagine so here's a sneaky little peak of how it looks….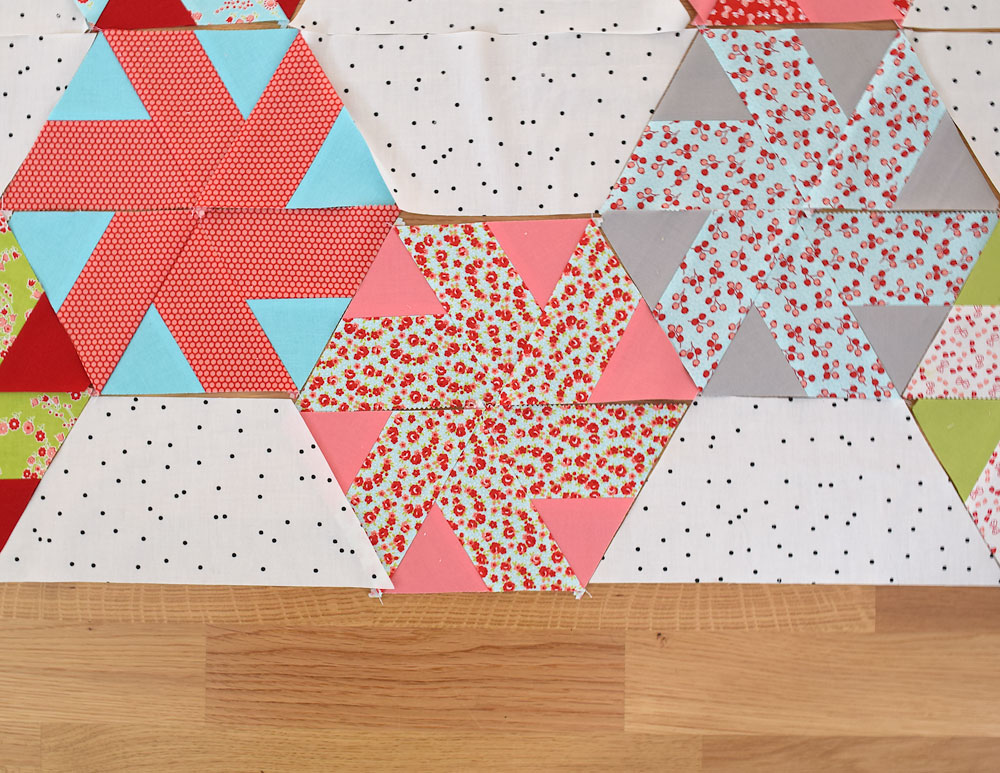 I can't wait to show you a little more of the two quilts I've made but that will need to wait until June 13 (which just happens to be my birthday!!!!) when myself and the other bloggers will be back to share our star blocks with you.   In the meantime, make sure you check out what these other awesome bloggers are up to with their fabric choices for the Little Ruby Quilt Along. I know I will be!
Melissa from Happy Quilting
Angie from Gnome Angel
Erin Cox from Why Not Sew
Andy from A Bright Corner
Heidi from Buttons & Butterflies
Pat from Pat Sloan
Peta from She Quilts a Lot (thats me!)
Heather from Quilt Story
Megan from Quilt Story
Amanda from Jedi Craft Girl
Gerri from Planted Seed Designs
Sherri from A Quilting Life
Rebecca from Bryan House Quilts
Sherri from This & That Patterns
Jemima from Tied with a Ribbon
Alyce from Blossom Heart Quilts
Stephanie from Modern Sewciety
Brooke from Silly Mama Quilts
Carrie from Moda's United Notions