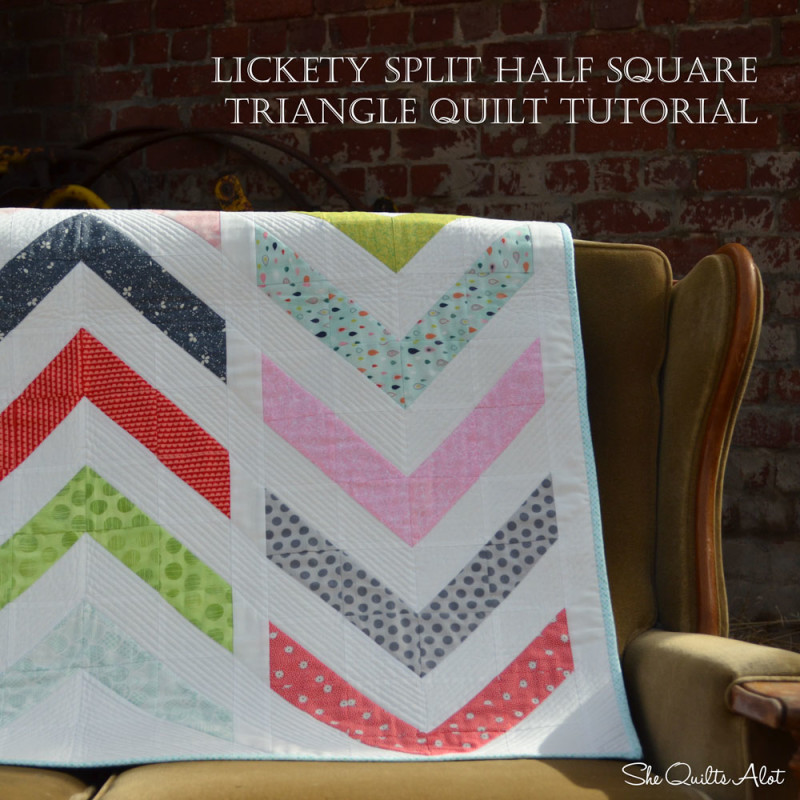 When I shared my Lickety Split quilt on Instagram this week I asked if anyone would be interested in a tutorial.   Quite a few people said yes so I'm back again to share a quick tutorial with you all.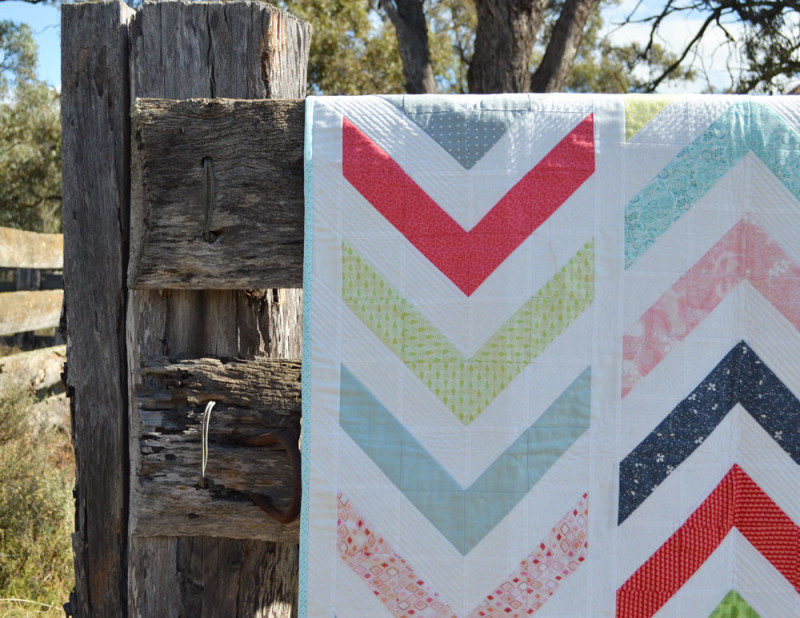 This tutorial is for a baby sized quilt top (42" x 46") made using 3.5" unfinished half square triangles (HST).   You could increase the size of the quilt by sewing with larger half square triangles or, by adding extra chevrons to each column and adding extra columns. You could also make a mini quilt or cushion cover using smaller half square triangles. You will need:
168 3.5" half square triangles (8 for each chevron)
12 – 3.5" squares of background fabric
3 – 2" x 12.5" strips of background fabric
4 – 2" x 47" strips of background fabric
Colouring sheet if you'd like to plan the layout of your colours/fabrics which can be downloaded here.
I used leftover 'ears' from the flying geese I made for my Down South quilt so only had to trim them to size.   If you'd prefer to make HST's specifically for this project you can follow the steps shown below.   If you already have your HST's sorted you can skip ahead to the next step.
On the back of a 4.5" square of background fabric draw a pencil line from one corner to the opposite corner.   Place the square on top of a print fabric square the same size (in this case 4.5").
Using a ¼" seam sew down both sides of the line.
Cut along the drawn line.
Press both HST's towards the print fabric and then trim to 3.5" square.
Making Lickety Split Rather than sewing traditional style square quilt blocks I made Lickety Split by piecing rows and then joining those rows to make the three columns of chevrons.   Each column is pieced in the same way.    The quilt assembly diagram below can be used as a reference  as you work through the tutorial.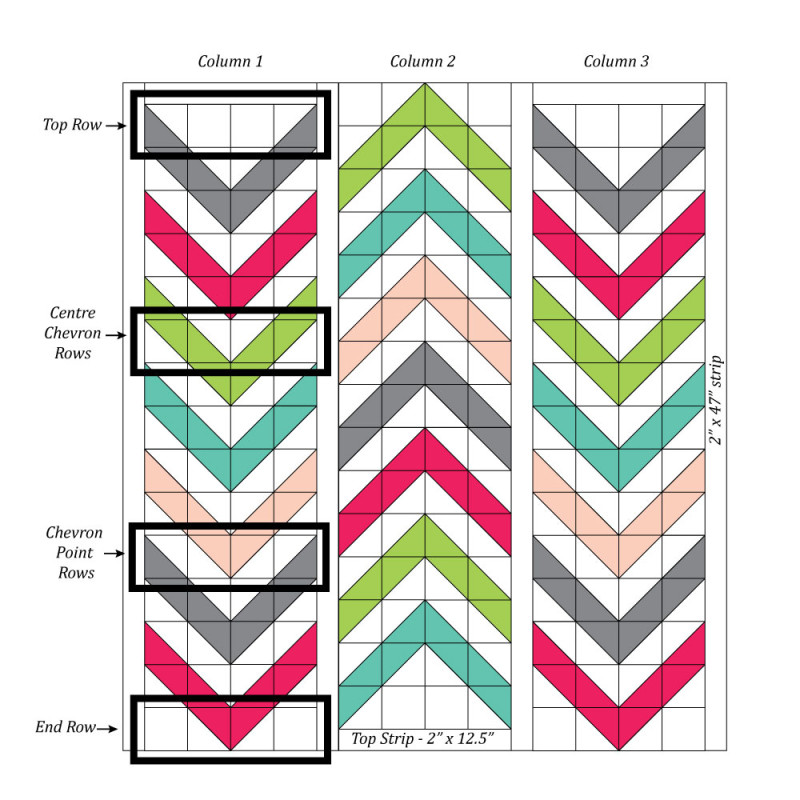 Tip: Knowing how you want to arrange your fabrics will make sewing the rows simple and fast.   If you haven't already, its worth using the colouring sheet to work this out and then having that beside you as you pin each row. Each column has 7 chevron units.  For each column you will need to make:-
1 top row
7 chevron centre rows
6 chevron point rows
1 end row
Sew each rows together using a 1/4″ seam and then press seams in alternate directions.   Join all 15 rows together referring to the quilt assembly diagram to make one column and then add a 2″ x 12.5″ strip to the top (open chevron end).   The completed column will measure 12.5″ x 47″.   Make 3 columns. Once your columns are assembled the final step in making the quilt top is to add the 2″ by 47″ strips.    To make the strips cut 5 strips 2″ x width of fabric.  Join strips together end to end and then cut 5 – 2″ x 47″ strips.    I recommend pinning the strips in place before sewing them to ensure they stay nice and straight as you run them through your machine. Tip: If you are making a bigger or smaller quilt you will need to adjust the size of the top and sashing strips to suit your HST's.    To make sure the chevrons line up correctly across the quilt your strips will need to be:-
           Half the width of the finished HST's + 1/2″ seam allowance. 
For example, if you are using 4.5″ HST's the top strips will be 2.5″ x 16.5″ & the sashing strips will also be 2.5″ wide.    If you are using 1.5″ HST's the top strips will need to be 1″ x 4.5″, the sashing strips will also be 1″ wide. If you run into any trouble please flick me an email, happy to help and of course, if you make your own Lickety Split don't forget to tag me on social media so I can see your gorgeous creations.

Until next time,