I've been making a lot of pillows lately as part of my determination to Make More Buy Less this year.   I got the idea from Melissa over at Oh How Sweet Co and have been up to my ears in  pillow making ever since!
This pillow was made a little while ago.  You might remember seeing the corners of it in my  last  Vintage Vibe project post.   My youngest daughters friend loves yellow and to tell the truth I was a bit lost for ideas until I came across a quilt block like this on Pinterest.   I added a few borders and am happy to report that little Ava, whom it was made for, loved it.   Yay!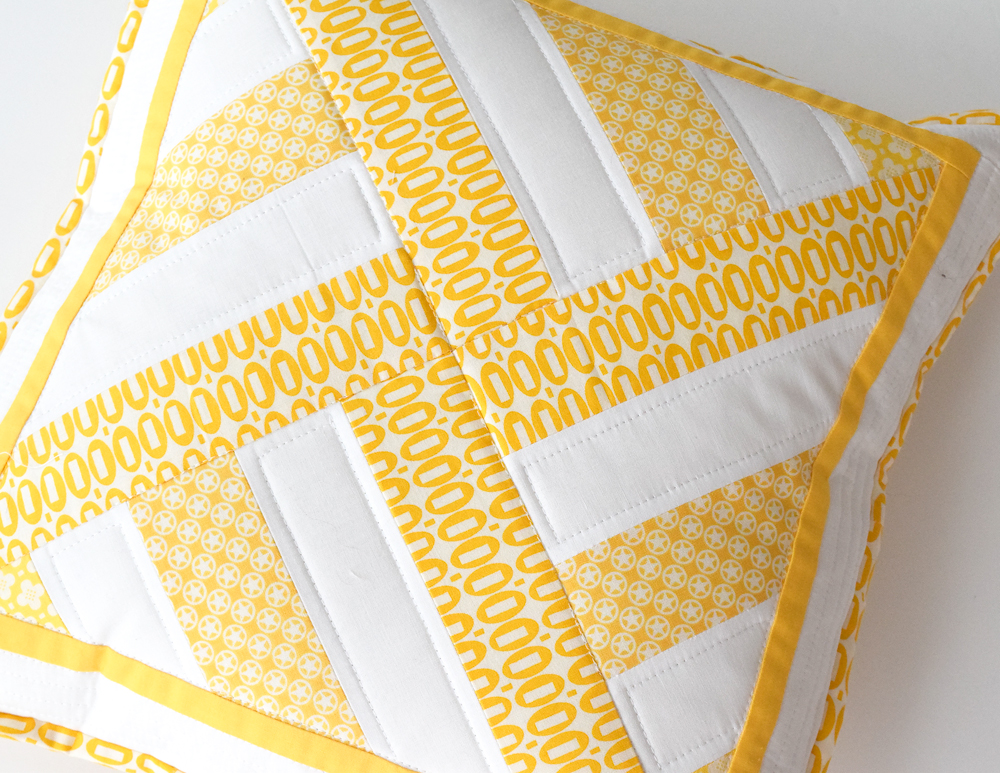 Since posting the pillow on Instagram & Facebook I've had a couple of people ask me about how to make the block.  If you'd like to make one you can follow these simple steps…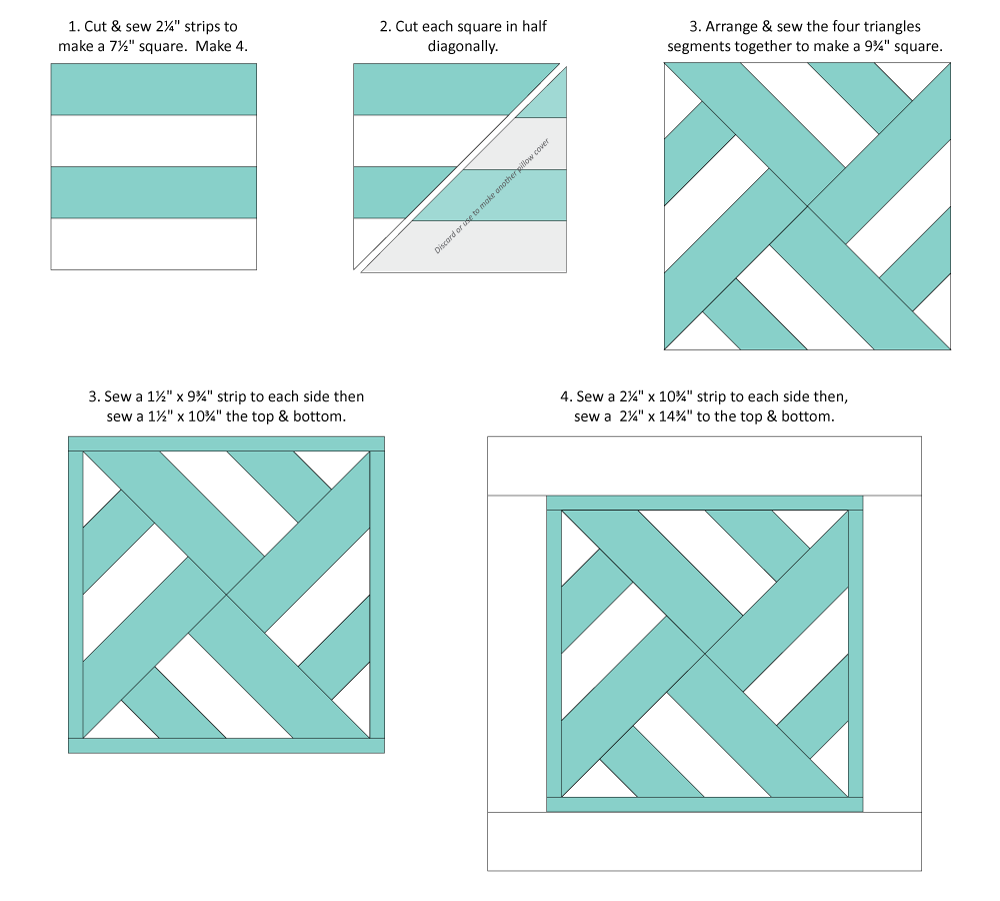 But what about the back I hear you asking?   Well that's what I really want to show you all in this tutorial!   We all love a folded pillow back, they're quick and easy to make but they sure do use a lot of fabric.    This lapped zipper pillow back is just as quick and easy and, you can do it all with your 1/4″ foot.  It also really reduces the amount of fabric you need to use.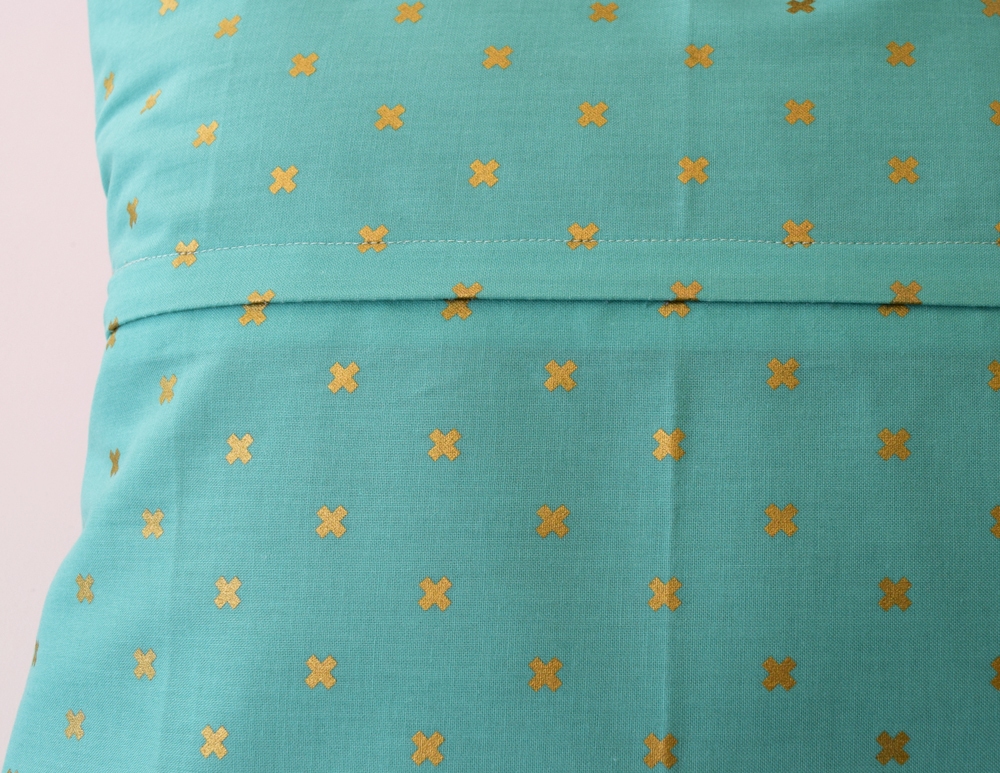 Start by measuring the size of your finished pillow top once you've quilted it then add 1.25″ to the finished length.       You can leave the width the same as the pillow top.    The pillow top above finishes at 14.75″ so I'd need a 14.75″ x 16″ piece for the back.     Got it?     Now chop it in half!   Yep, seriously, decide where you'd like the lapped zip to sit on the back and cut the backing piece at that point.   Add a 1″ piece of fusible interfacing to the wrong side of each piece of fabric.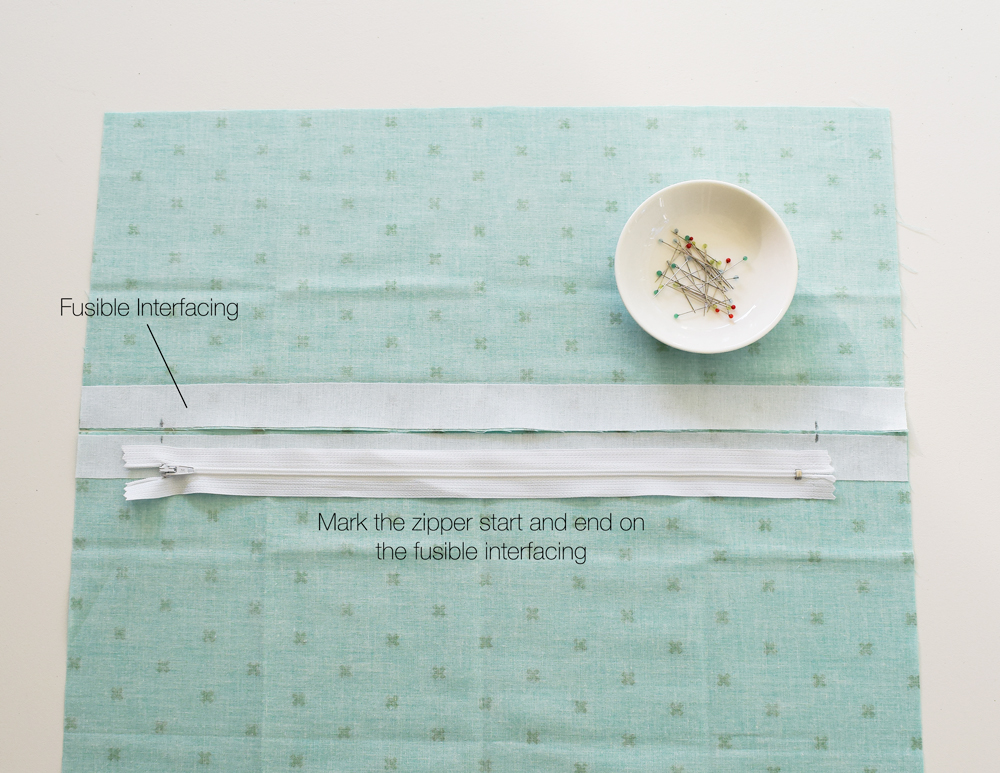 I use a zipper around 2″ shorter than my pillow tops, in this case a 12″ zip.   Lay your zipper on the fusible interfacing and mark just past the start and end.   Now head over to your machine and, using a 5/8 seam allowance sew the two halves together.   Use a normal stitch length until you get to the mark you just made, then change to a basting stitch length until the next mark and finally, back to a normal stitch length.    Press the seam allowance open.
Open up the zipper and lay it  face down so that the teeth are sitting on the seam.   Pin in place and then sew along the edge of the zipper and seam allowance to hold in place.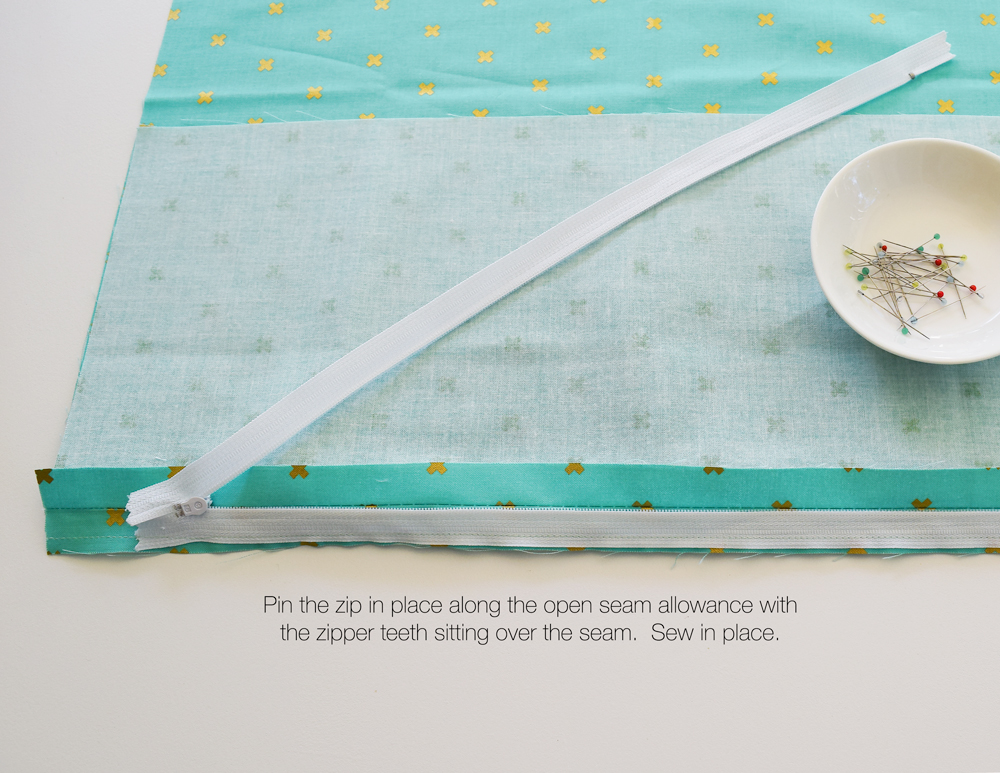 This next bit is a little tricky but if you take your time you'll be fine.   You want to pinch up the seam allowance you just attached the zipper to to form a little tuck.    Pin in place.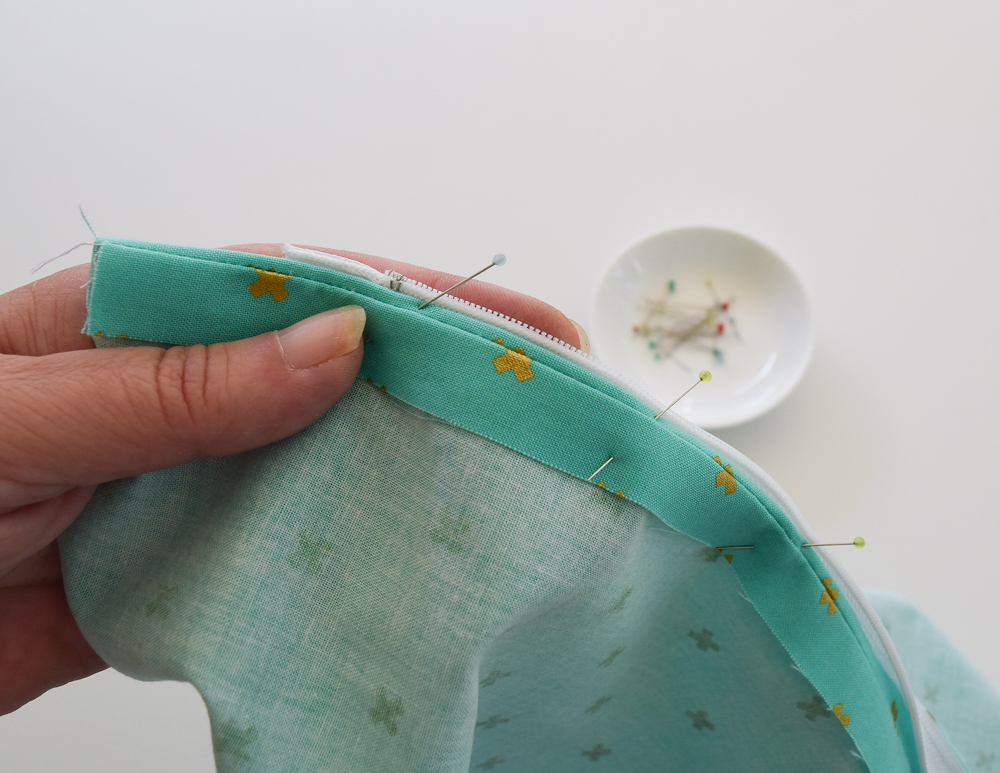 Position the tuck under your sewing machine foot and sew to hold it in place.  Take care to only sew the tuck, you don't want to end up sewing down the opposite 5/8 seam allowance.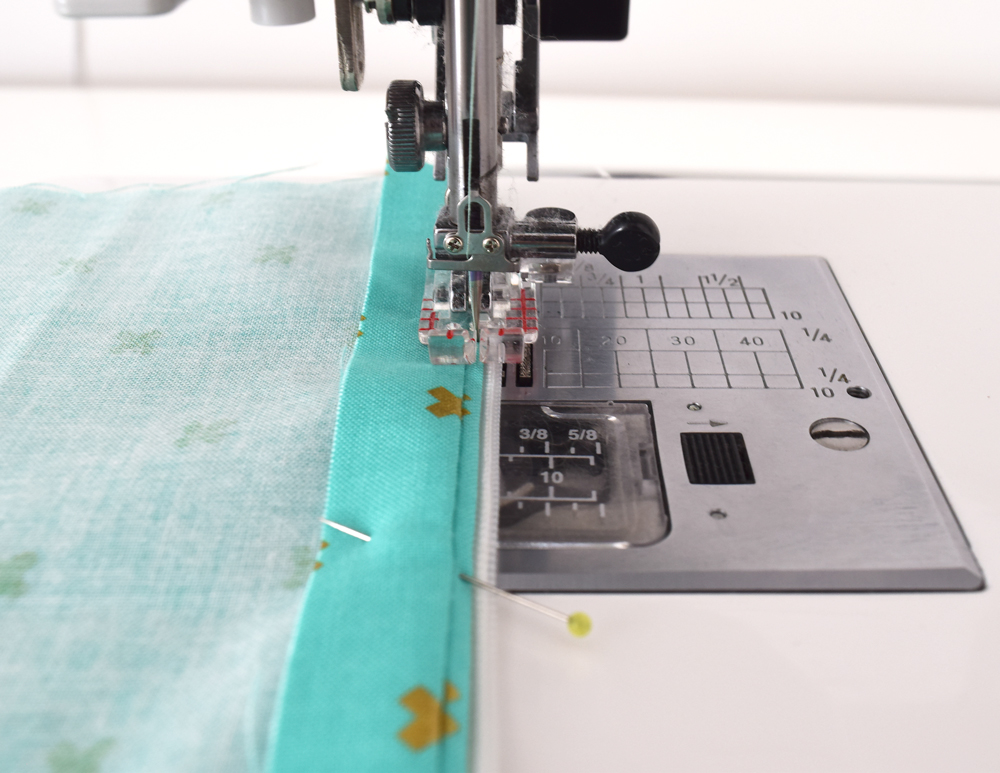 Close the zipper back up and then flip the fabric over so that the right side is facing you.    This last step holds the zipper in place on the opposite side.   Do a little checking back and forward to make sure you know where the zipper starts and end and pop a pin just before and after those places across the seam.    Making sure the zipper is nice and flat pin a few more times to hold the zipper in place.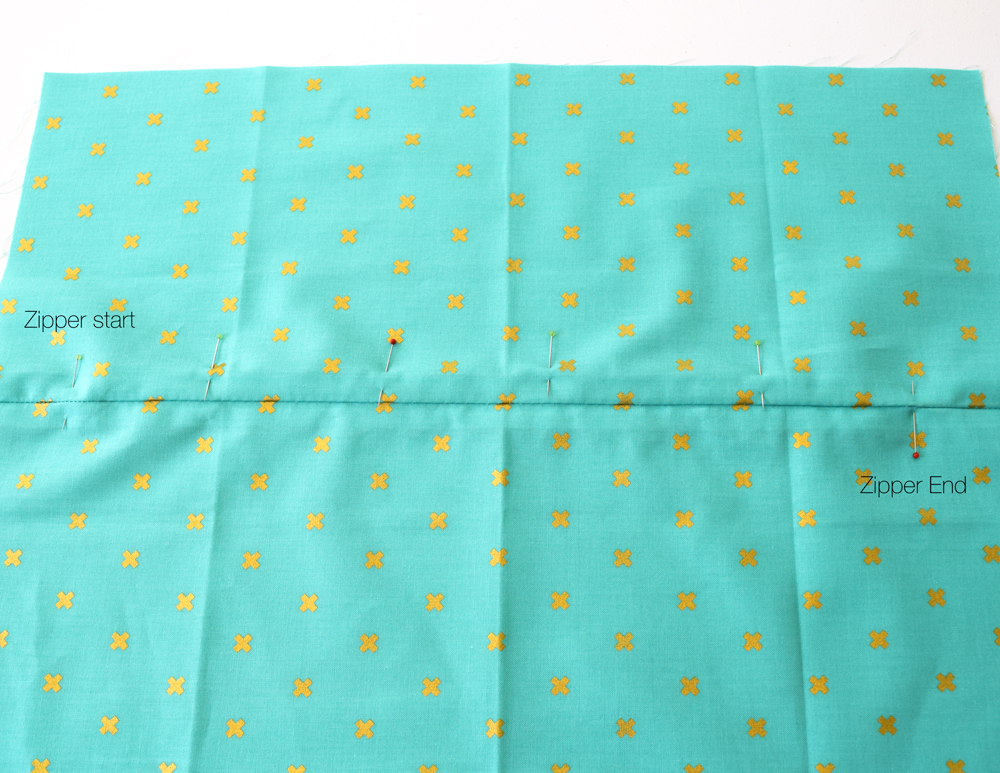 Sew and then backstitch across the seam a couple of times then pivot the fabric so that the unfinished side is in the machine.    Make sure that the edge of your 1/4″ foot is sitting right up against the zipper teeth and sew straight down.   Stop when you get to the other end of the zip and backstitch a couple of time again.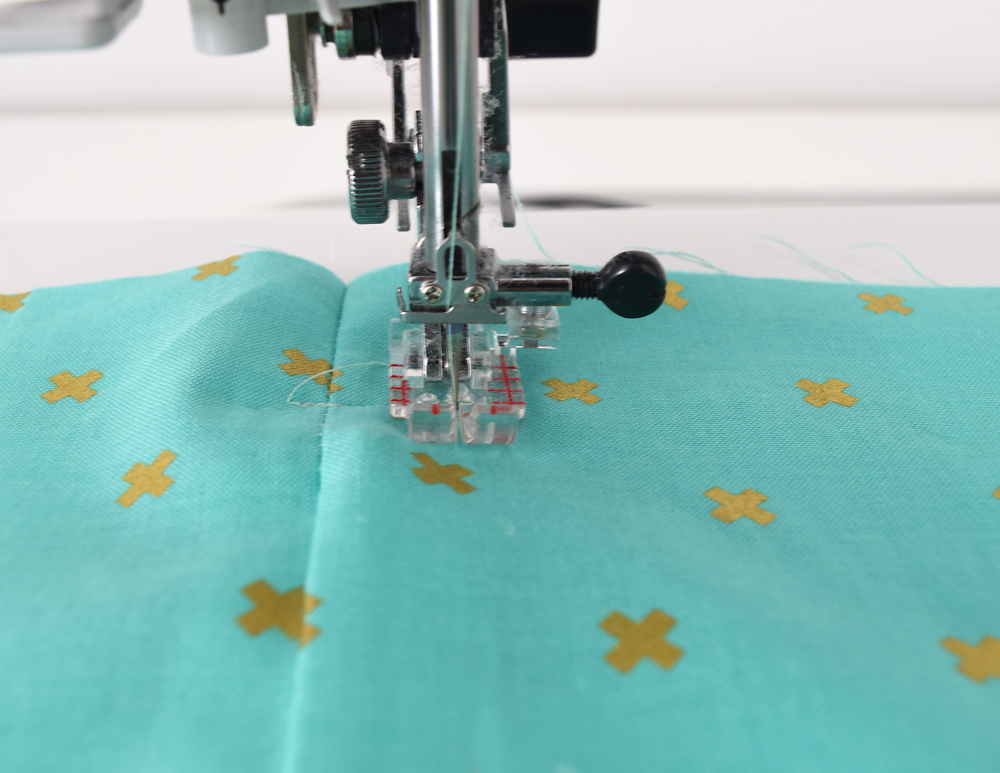 The last step is to grab your seam ripper and open up the part of the centre seam that you used a basting stitch on.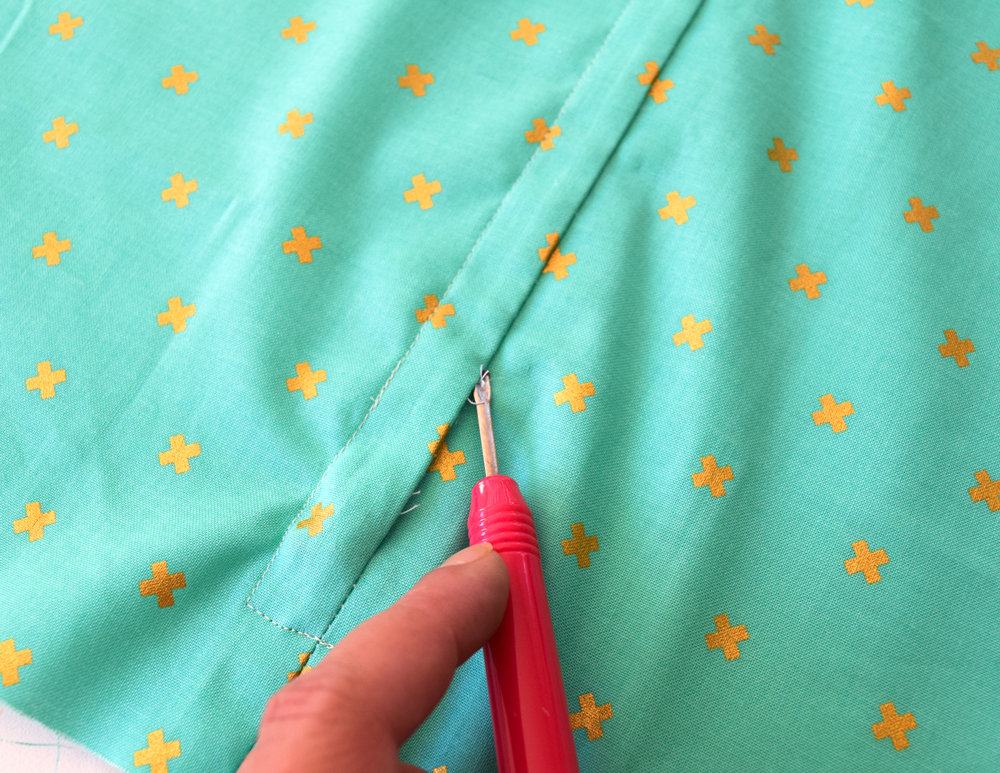 When you're done you can finish off your pillow by following these last couple of steps.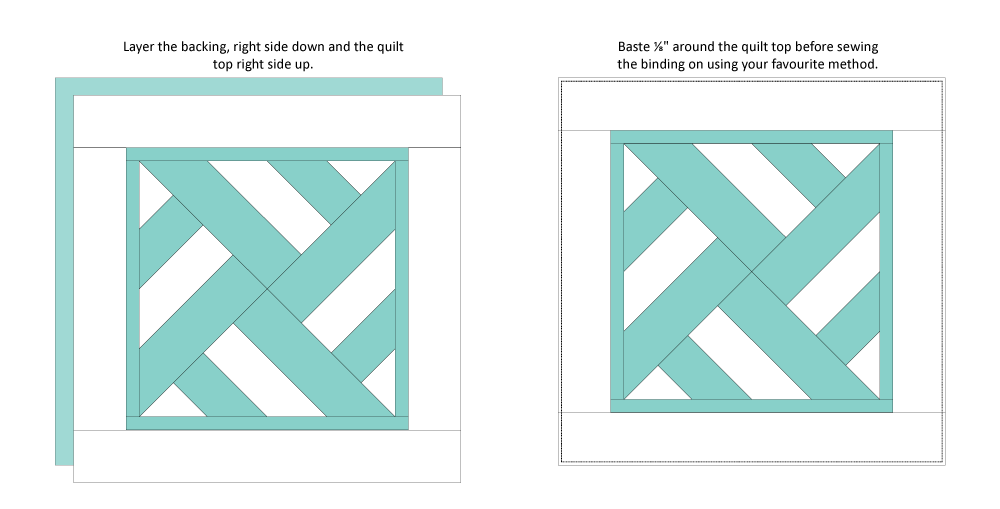 That's it!  And as promised all with a 1/4″ foot!   Let me know how you go if you try this method and, of course, if you have any questions at all please say so.
Happy quilting,