I'm back with another tutorial as part of the Quick & Easy Handmade Gifts series with some speedy journal covers.    I wanted something I could make really quickly so that I could tick the teacher gifts off my list and these simple covers do exactly that.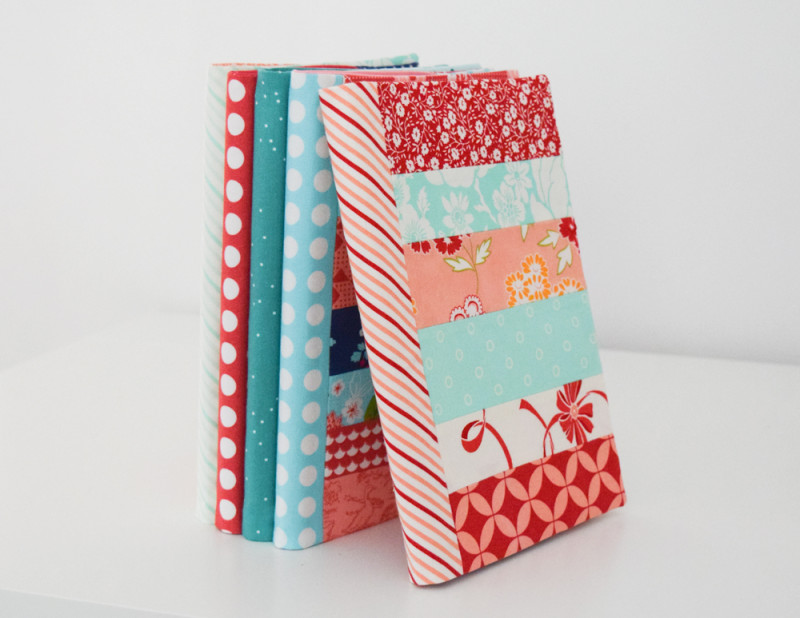 Here's what you will need:
1 hard cover journal book
2 fat quarters, 1 for the outside and 1 for the spine and lining
Fusible interfacing
Start by measuring the height of the journal and then the width right around.   This journal is 8 1/2″ tall and 12 1/2″ around.    Add 3/4″ to each of these measurements to determine the sizes you will need to cut.     For these particular journals I need the pieced cover and lining to be 9 1/4″ x 13 1/4″ (8 1/2″ + 3/4″ = 91/4″, etc).

Referring to the cutting diagram below cut:  2 – 6″ x 9 1/4″ and 2 – 3 1/2″ x 9 1/4″ rectangles from the cover fabric.  1 – 9 1/4″ x 131/4″ rectangle, 2 – 3 1/2″ x 9 1/4″ and 1 – 2 1/2″ x 9 1/4″ rectangles from the lining fabric.    You will also need 1 – 8 3/4″ x 12 3/4″ rectangle cut from the fusible interfacing.

Using a 1/4″ seam allowance join the 2 1/2″ x 9 1/4″ lining fabric to the 2 – 6″ x 91/4″ cover fabric rectangles.    Press seams open.   Trim to 9 1/4″ x 13 1/4″ and then fuse the interfacing to the wrong side of the cover panel with a hot dry iron.
To make the inside pockets that will hold the journal in place take 1 of the 3 1/2″ x 9 1/4″ rectangles cut from the cover fabric and 1 of the 3 1/2″ x 9 1/4″ rectangles cut from the lining fabric.     Place them together with right sides facing and then sew down one long side.   Press the seam open and then fold in half so that wrong sides are facing and give it a good press. Repeat with the remaining 3 1/2″ x 9 1/4″ rectangles.

With raw edges aligned place the pockets on to the right side of the lining fabric as shown.   If you like you can pop a couple of pins on each pocket to hold them in place.
Using a 1/4″ seam allowance sew around the journal cover starting and ending on one short side.  Backstitch at the start and end.  Make sure you leave a 3-4″ gap so you can turn it right side out when your done.  Trim the corners and then turn right side out and give it a good press then hand stitch the opening closed.
My cat loving daughter picked this fabric out for her favourite cat loving teacher, let's hope Ms Brown's love of cats extends to journals!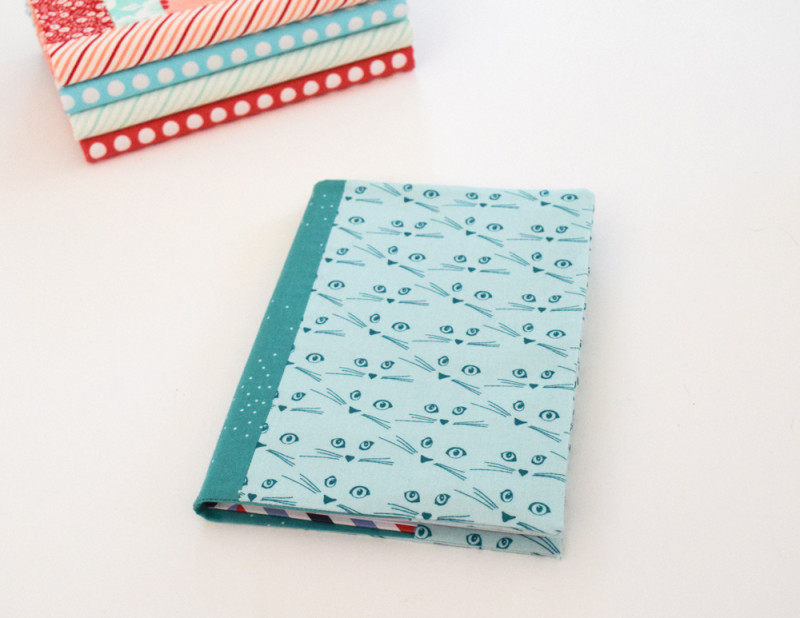 With two kids I needed a few of these so I made a more with some fabric strips I had in my scrap bins.  I pieced the strips in one 9 1/4″ x 12″ rectangle then chopped it in half before adding the spine to the centre of the cover panel and interfacing to the back.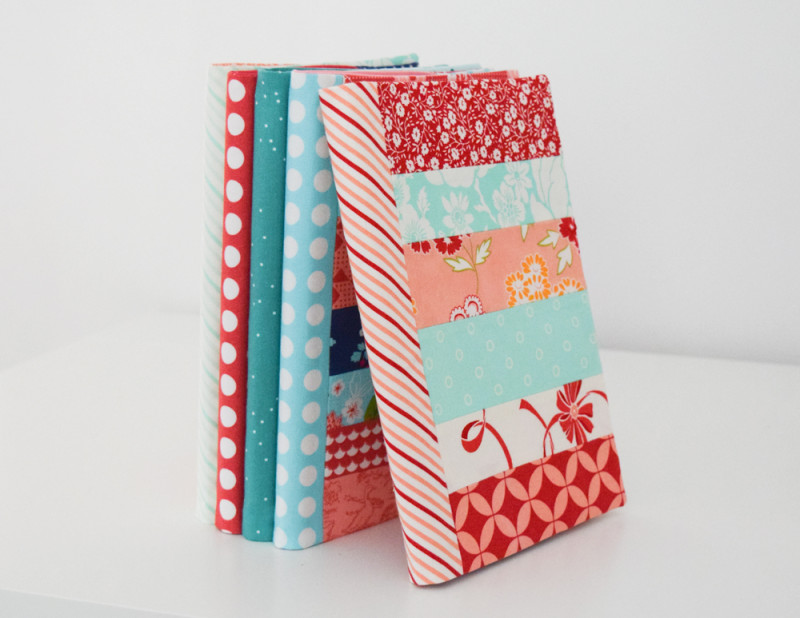 All done in the nick of time since the high schooler finishes today and our youngest next Friday.   Phew!   Fingers crossed this weekend provides some sewing time so I can get some more gifts made.
Have a great week and, for everyone in the USA, I hope you had a Happy Thanksgiving!