If you love Halloween as much as I do I'm sure you're going to be excited to see this new fabric collection by Carina Gardner for Riley Blake Designs.     It's called Eek Boo Shriek and it's absolutely adorable.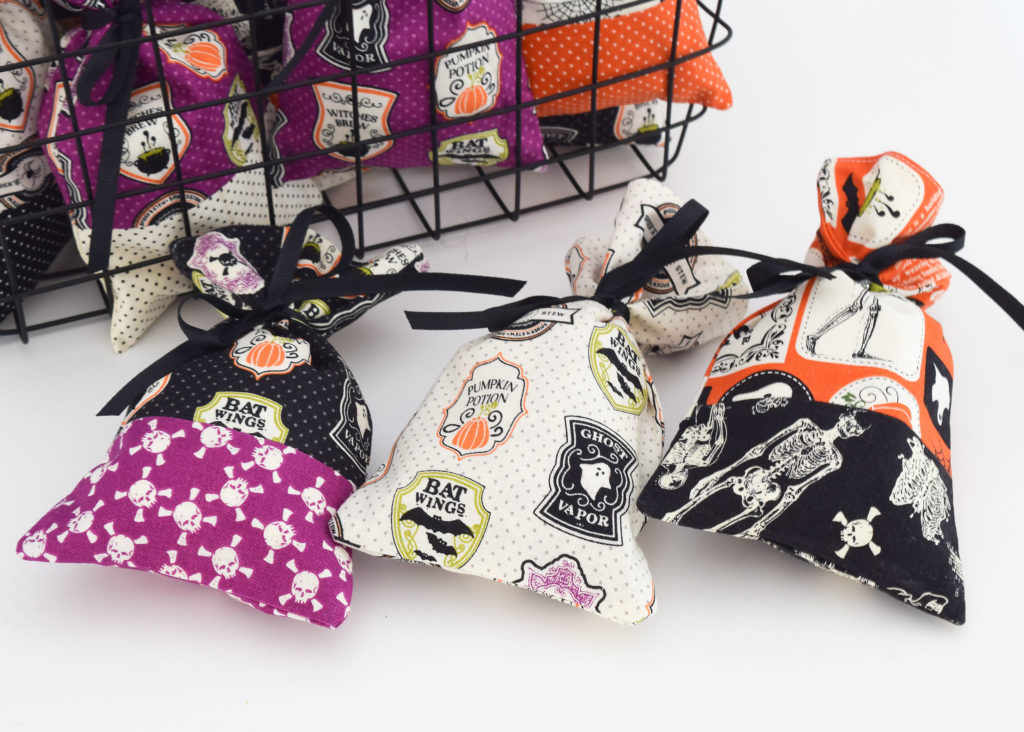 Carina has had a blog tour happening over the last few days and the other girls have made some awesome (and cute) things.   Check out their posts to see what they've been up to!
31st July – Kari from That's Sew Kari
1st Aug – Amanda from Material Girl Quilts
2nd Aug – Sharon from Daisy Cottage Quilting
3rd Aug – Vicki from Orchid Owl Quilts
4th Aug – Me!
Halloween is a bit hit and miss here in Australia.  It's definitely not a big thing but, I have noticed there are more and more people joining in the fun each year.    I like to think I'm educating everyone in my neighbourhood one Halloween at a time by going completely overboard with house decorations.   I get so excited just thinking about what a fun night it is and look forward to it every year.    This year I'll have a fun new Boo! Mini Quilt (aka Halloween banner) and a cauldron full of these adorable little treat bags ready for when the neighbourhood kids come Trick or Treating.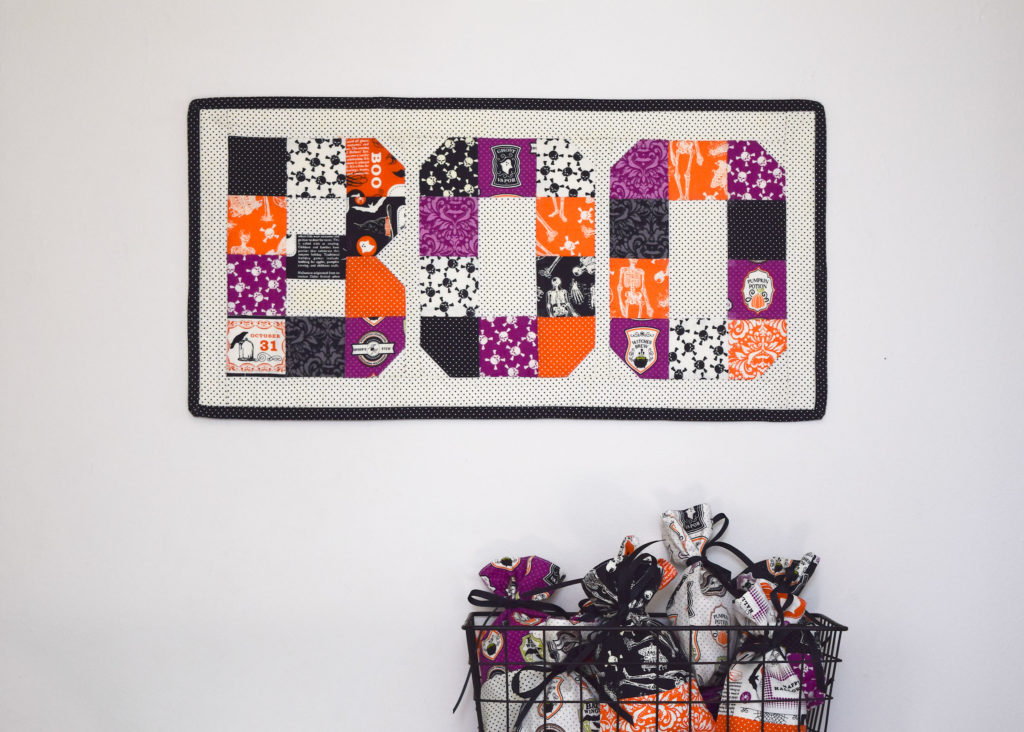 If you would like to make your own Boo! Mini Quilt you can grab a copy of the pattern from my shop by clicking here.
I've made these little treat bags before with little bunny fabric to use as Easter Treat bags and I thought that they would like just as great in Carina's spooky Halloween prints.   They are so easy to make that I'm sure you will be able to make a whole bunch of them in no time at all.
Here's what you will need to make one 4″ x 7″ treat bag:
2 rectangles, 2 1/2″ x 4 1/2″ for the bag exterior
2 rectangles, 5 1/2″ x 4 1/2″ for the bag exterior
2 rectangles, 4 1/2″ x 7 1/2″ for the lining
16- 17″ piece of 1/4″ ribbon
coordinating thread
a small pair of scissors
a chopstick or corner turning tool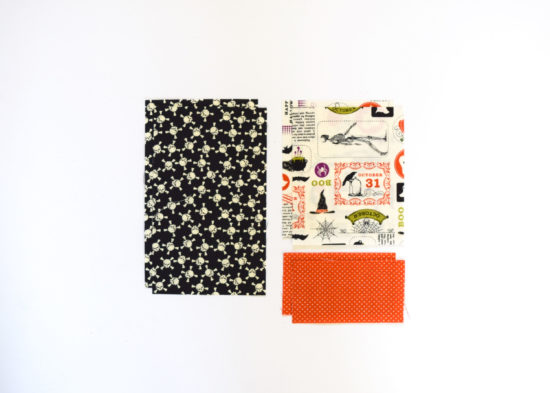 1. Using a 1/4″ seam allowance sew the 2 1/2″ x 4 1/2″ rectangles to the of the 5 1/2″ x 4 1/2″ rectangles along the 4 1/2″ side to make the bag exterior pieces.    Press the seams open.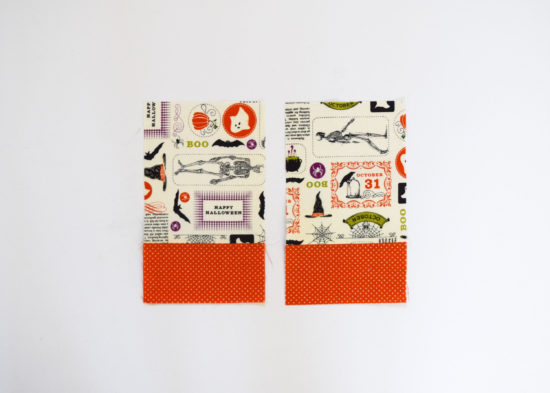 2. Sew the 4 1/2″ x 7 1/2″ lining rectangles to the other end of the the 4 1/2″ x 5 1/2″ bag exterior rectangles.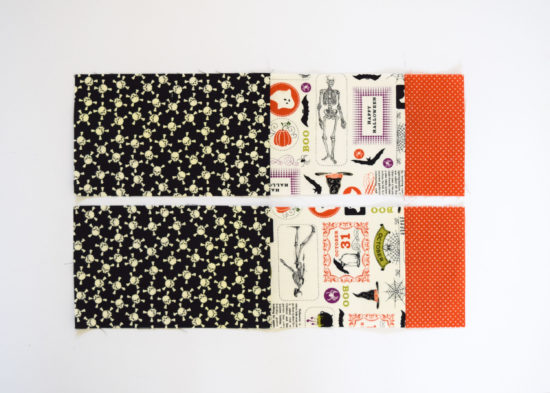 3.  Place the two panels together with right sides together making sure that the seams are all correctly aligned.    (That's tricky to show in a photo so my seams are not aligned in the photo below).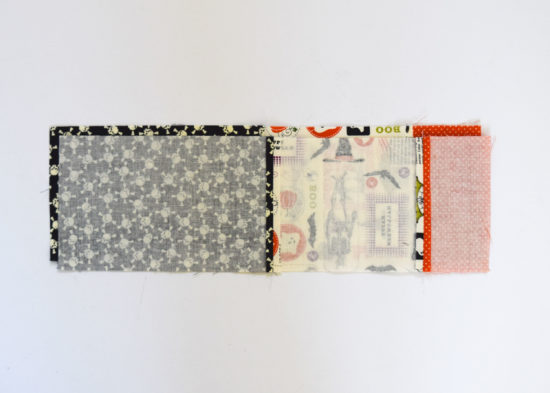 4. Leaving a 2″ – 2 1/2″ gap on the short side of the lining pieces sew around the panels to join them.  Backstitch at the start and end.   Trim the excess fabric each corner.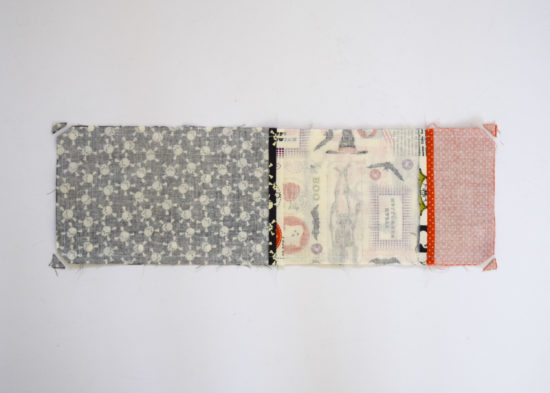 5. Turn the bag right side out through the gap in the short side of the lining pieces.  Use a chopstick or corner turning tool to make sure that the corners are turned out completely.    Fold the seam allowance in the gap in the lining pieced inside the bag then give it a quick press and sew the opening closed with coordinating thread.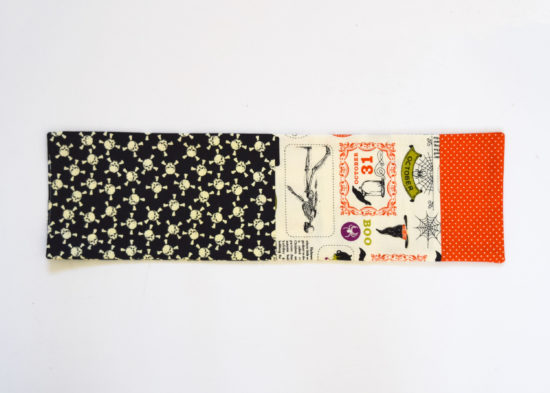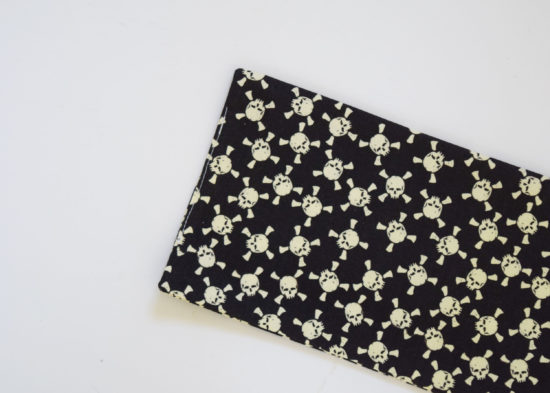 6. Push the lining piece inside of the bag exterior to finish off the bag.  Fill them up with all sorts of delicious Halloween treats and then tie them with a 16″ piece of ribbon.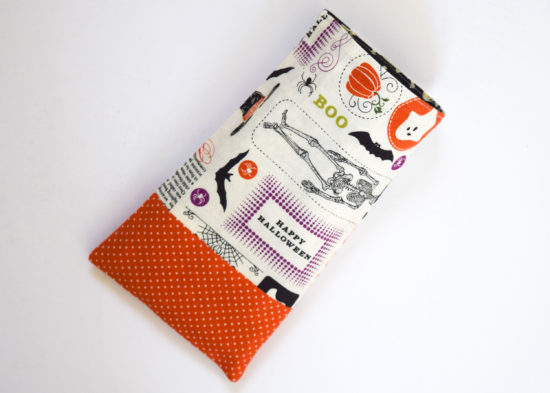 Optional:- I like to top stitch around the opening of the bag using a 1/8″ seam allowance but that's completely optional.    The top stitching doesn't add any functionality to the bag, I just think it looks nice.
They look adorable don't they!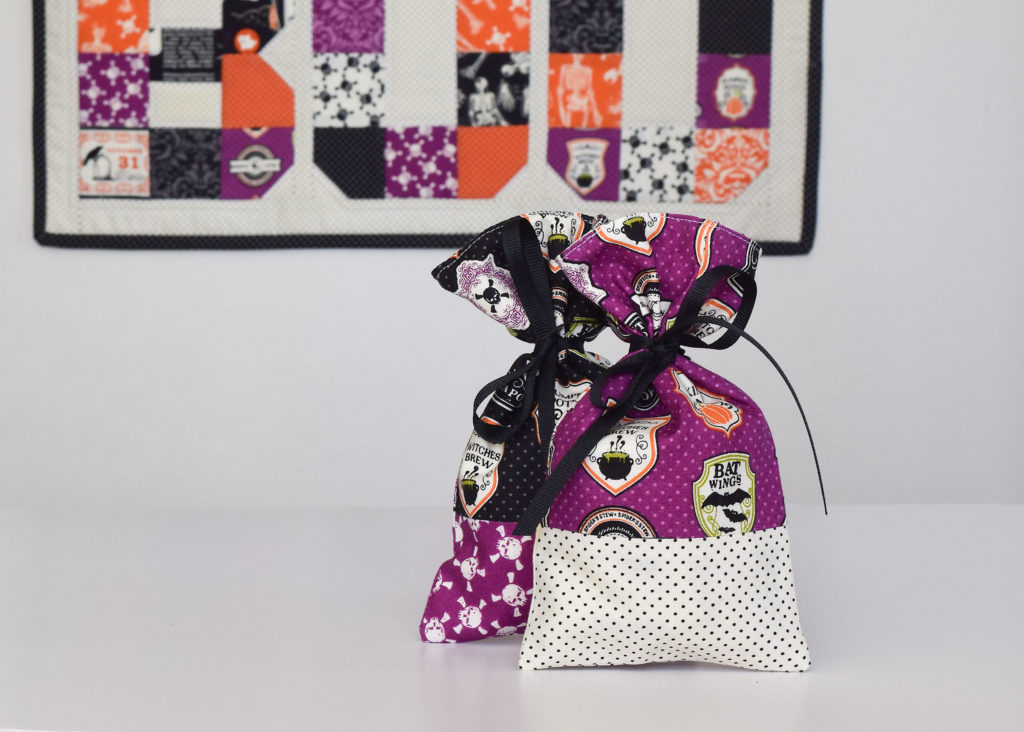 You can customise these little treat bags as much, or as little, as you like.   I made a couple with a single piece of fabric (the same size as the lining pieces) for the exterior and they look just as cute.   You could also make them with small squares or a bunch of strips.  The possibilities are endless.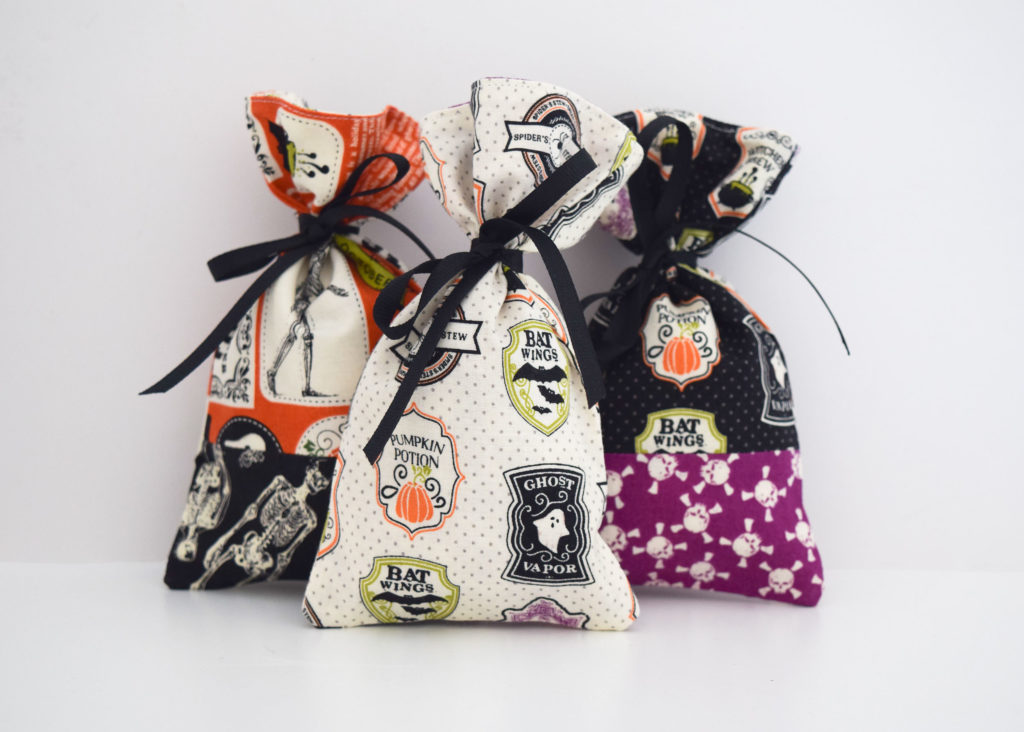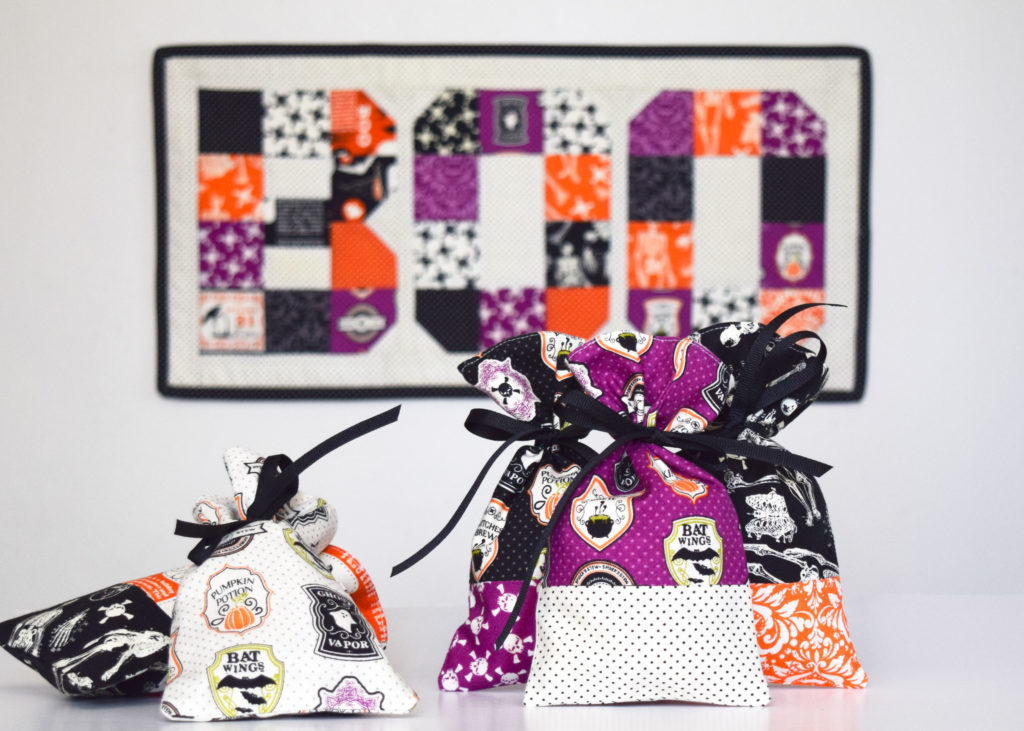 Eek Boo Shriek is available in stores now.   It's such a fun fabric collection and one I'm sure you will enjoy sewing with.
Happy Quilting (I figured it was too early to say Happy Halloween!)