I'm so happy you'd like to join in with the Sweet Stars Sewalong!   Every Monday & Thursday in September a whole bunch of fabulously talented quilters will be sharing tips and tricks to make sewing the Sweet Stars quilt, and quilting in general, a breeze!  Read on for all the information you'll need and links to the official bloggers posts.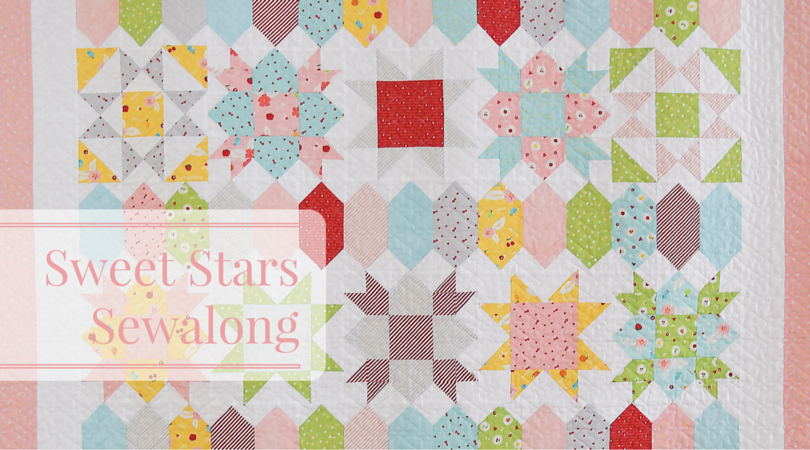 Sweet Stars Pattern: To join in you'll need a copy of the Sweet Stars pattern.   If you don't already have a copy you can grab one from my online store by clicking here.   I've also added the Sweet Stars Mini to my online store.   PDF patterns are available now and paper patterns will be available soon.
Quilt Kits & Backing Sets: The Fat Quarter Shop has Sweet Stars Quilt Kits and Backing Sets available now.  They also have yardage available for every one of the beautiful prints in Sedef's Sweet Orchard collection (which is what I used to make the Sweet Stars quilt).
Instagram Hashtags: Sewing with other people online is heaps of fun and a great way to make new friends.   If you're on Instagram make sure to add the  hashtags #sweetstarsal and #sweetstarsquilt to your photo so that everyone can see your progress and, your finished quilt.
Prizes: The lovely folks at Riley Blake have kindly provided a Fat Quarter Bundle and a Fat Eighth Bundle of Sweet Orchard by Sedef Imer as prizes for two lucky people who join in with the sewalong.  To be in the running for one of the bundles pictured you'll need to post a picture of your completed blocks by the end of the sewalong on Instagram using the hashtags above.   If you don't have an Instagram account you can send a photo direct to me by email at  shequiltsalot@gmail.com or, much better idea because Instagram is seriously great, you can sign up for an account by clicking here.
Blogger Posts
29 August
Let's get this party started!
1 Sept
Selecting fabrics to make a beautiful quilt
5 Sept
Learn the easiest (and most proven trick) to help with accuracy
8 Sept
Mastering the humble half square triangle
12 Sept
Sweet & simple: the Sawtooth Star block
15 Sept
Everything you need to know about easy corner triangles
19 Sept
Pretty & Practical: Quarter square triangles & the Ohio Star block
22 Sept
Perfect, wobble free, borders every time
26 Sept
Machine & free motion quilting tips
29 Sept
Fast and accurate machine binding to get your project finished
30 Sept
Wrap Up & Giveaway