I have three new patterns to share with you all today!  They have all been uploaded to my shop and, if you're a subscriber to my blog you might want to check your email to find the special coupon codes I sent yesterday.
First up, say hello to Happy Harvest, a fat eighth friendly quilt pattern that comes in two handy sizes.   Baby – 40″ x 50″ and Lap – 53″ x 59″.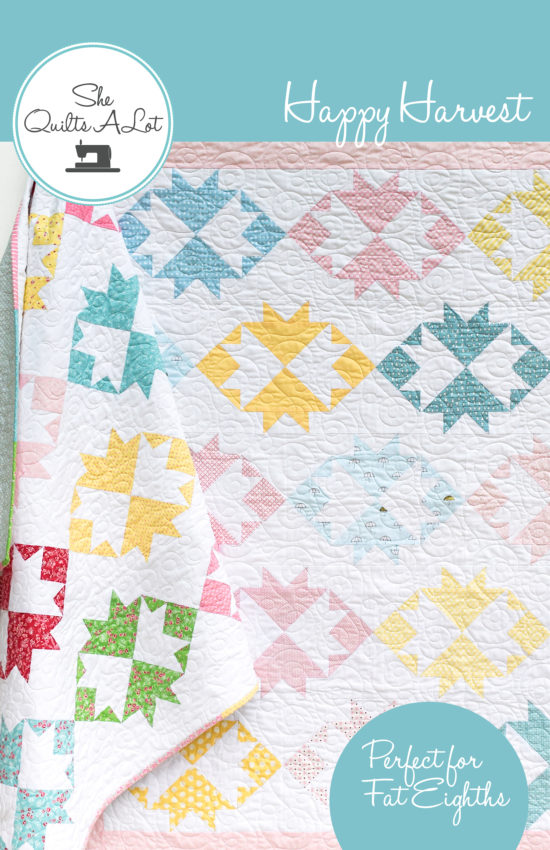 The rectangular shaped block gives this sweet design an extra touch of cuteness.  It's perfect for soft pastels like the ones I used in the scrappy version (right).  Or, just as perfect for happy brights (left) like the First Romance collection from Kristyne of Pretty by Hand for Moda Fabrics which will hit stores October 2017.  (You might want to keep an eye out for early release precuts though because I've seen a few in stores right now.)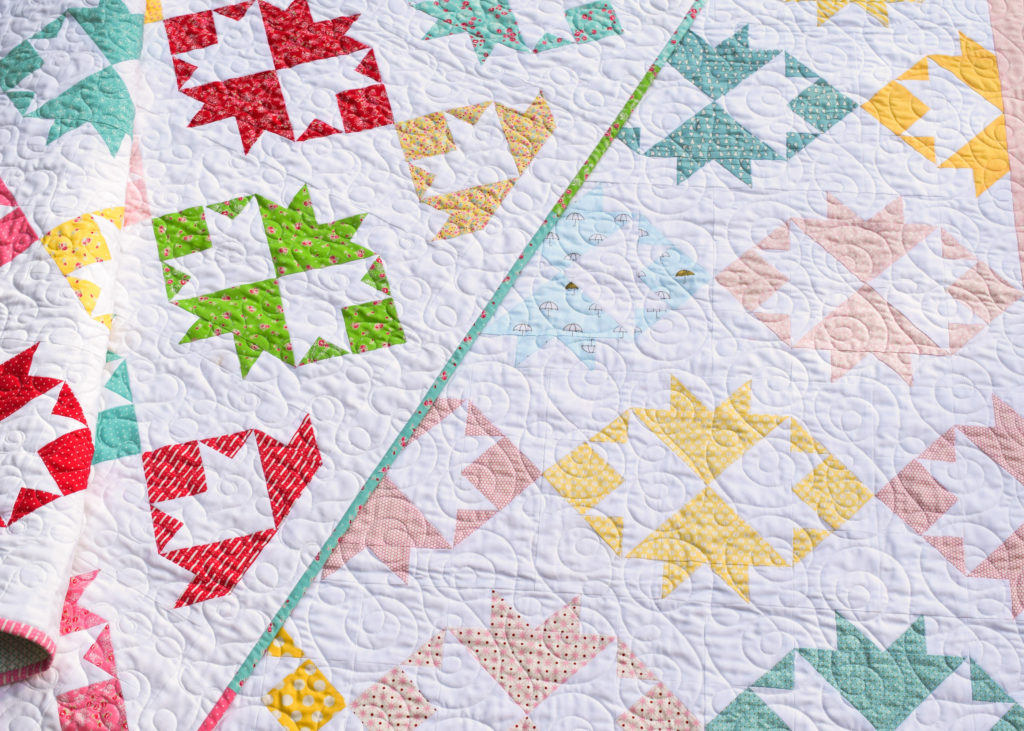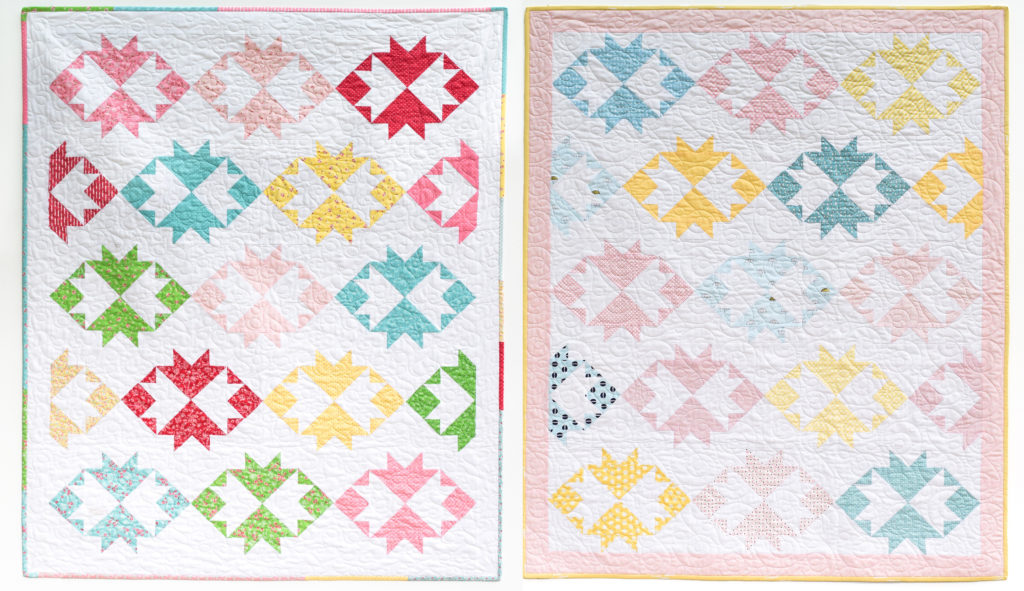 You could also try a coloured background with some pretty floral prints like these Sweet Prairie prints from Sedef of Down Grapevine Lane for Riley Blake Designs. In stores August 2017.   You might notice there's extra space between the rows in this version (no your vision hasn't gone wonky!).   I made this quilt for Sedef's market booth and then changed my mind about the pattern when I started making the other two.   If you like the extra space you'll just need an extra half yard or so of your background fabric.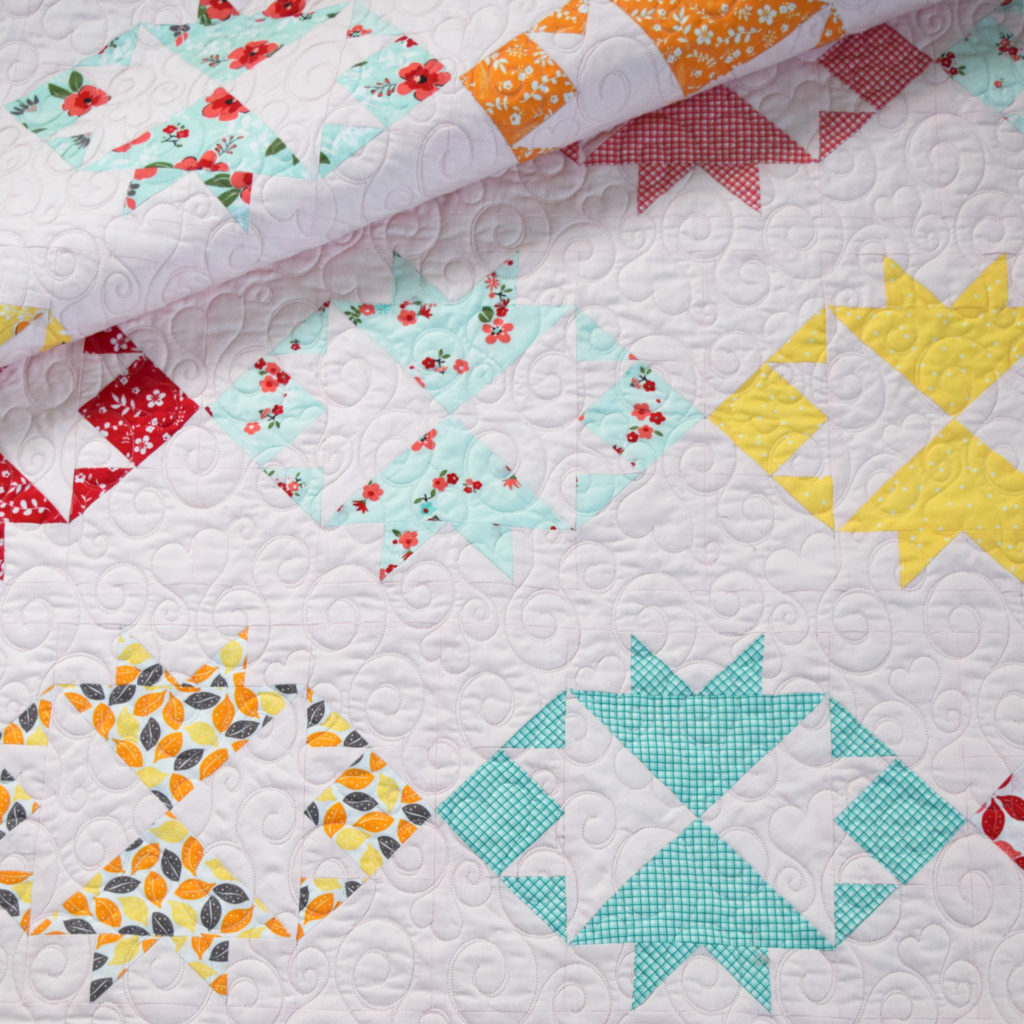 Next is Summer Scoop a 60″ x 85″ twin sized bed quilt made with one simple 15″ block and some sashing.   It's fat quarter friendly so you can dive into your stash or, you can grab a bundle of your favourite fabric collection.   The quilt I made has fabrics from Corey from Little Miss Shabby's Flower Mill collection for Moda Fabrics (in stores this October).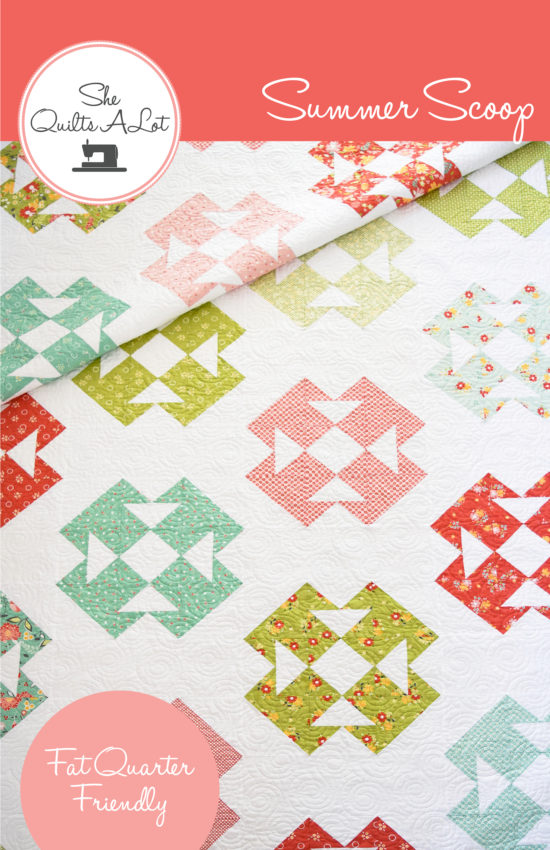 Perfect for lazy summer days under a tree reading a good book.   Of course, you'll have to make one first!   I love a quilt I can chain piece easily and this one really fits that bill.   Just three simple units that come together to make a gorgeous quilt anyone would be happy to have.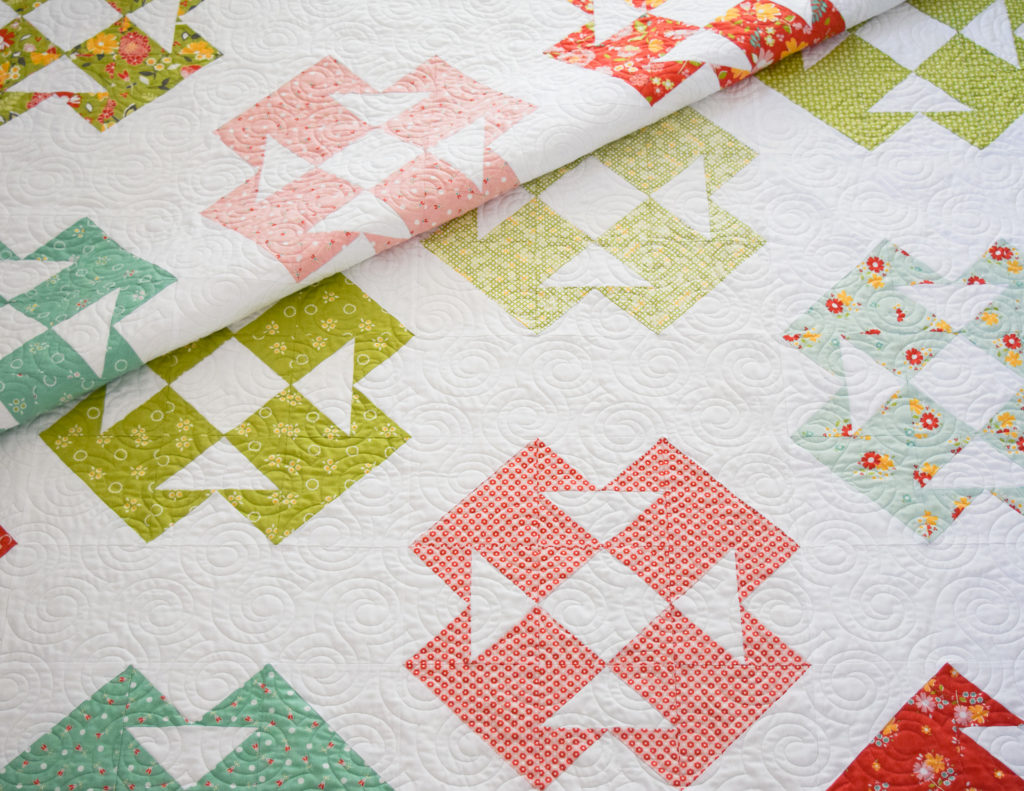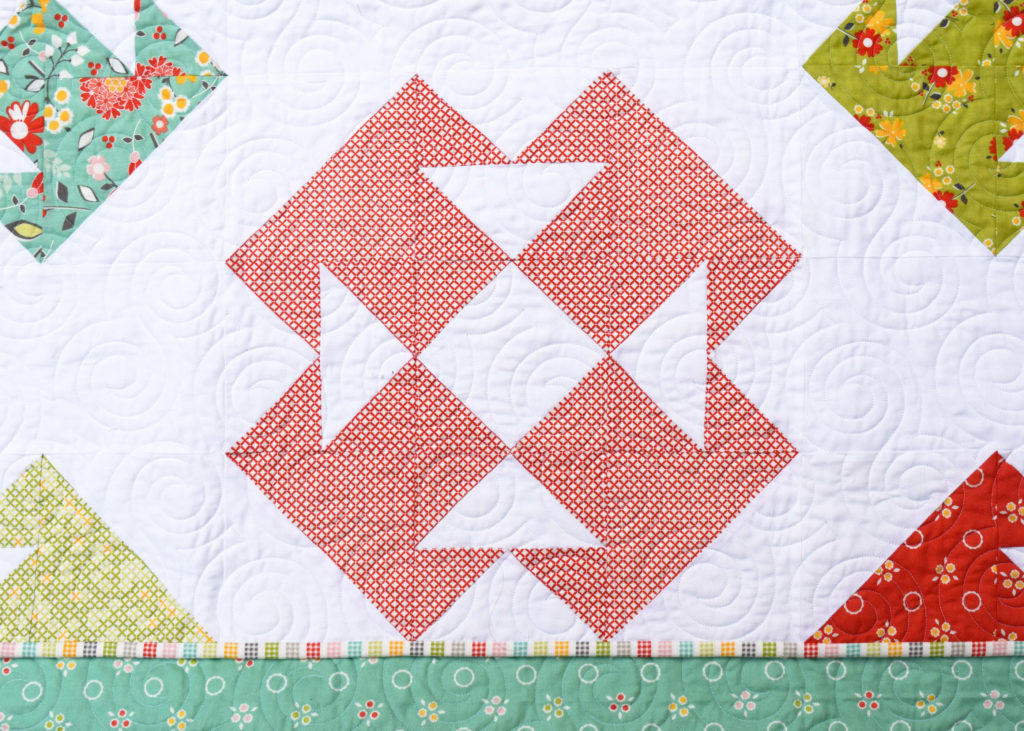 By the way, how cute is that gingham stripe binding???   It comes in about 5 colours and I think it might just become my favourite binding fabric ever!
Just one more to share with you…
Pointed View another fat quarter friendly quilt pattern, I designed it based on a quilt I'd done for Love Patchwork & Quilting Magazine and couldn't be happier with how it turned out.  The pattern includes everything you need to know to make a 70″ x 70″ but this one is super easy to upside to a larger quilt if that's what your little heart desires -:).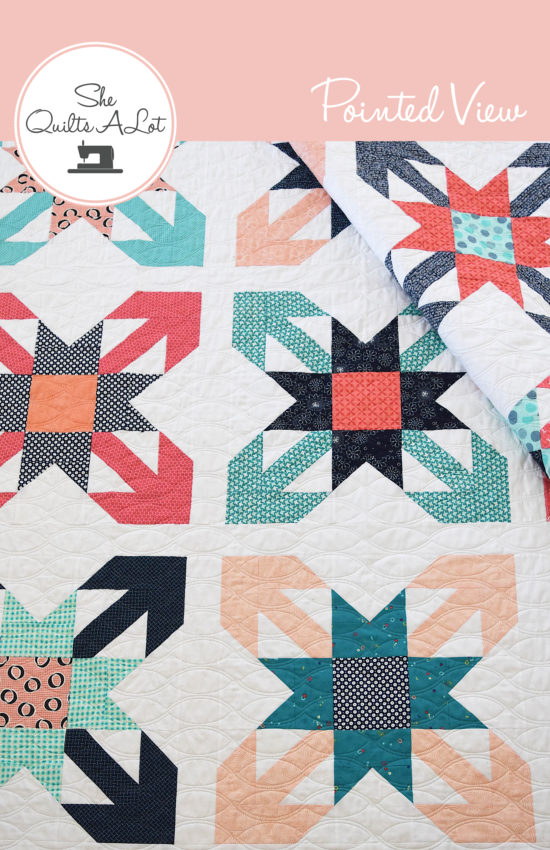 I made one with a bunch of coral, teal and navy fabrics I had in my stash so you could see how the design takes on different looks depending on the fabric you choose.   This one is a bit bolder than the one you'll see in just a second and if it wasn't for the couple of floral prints I used I think my husband would have already claimed it!   Don't tell him but I needed a new couch quilt so I put the florals in just for me -:)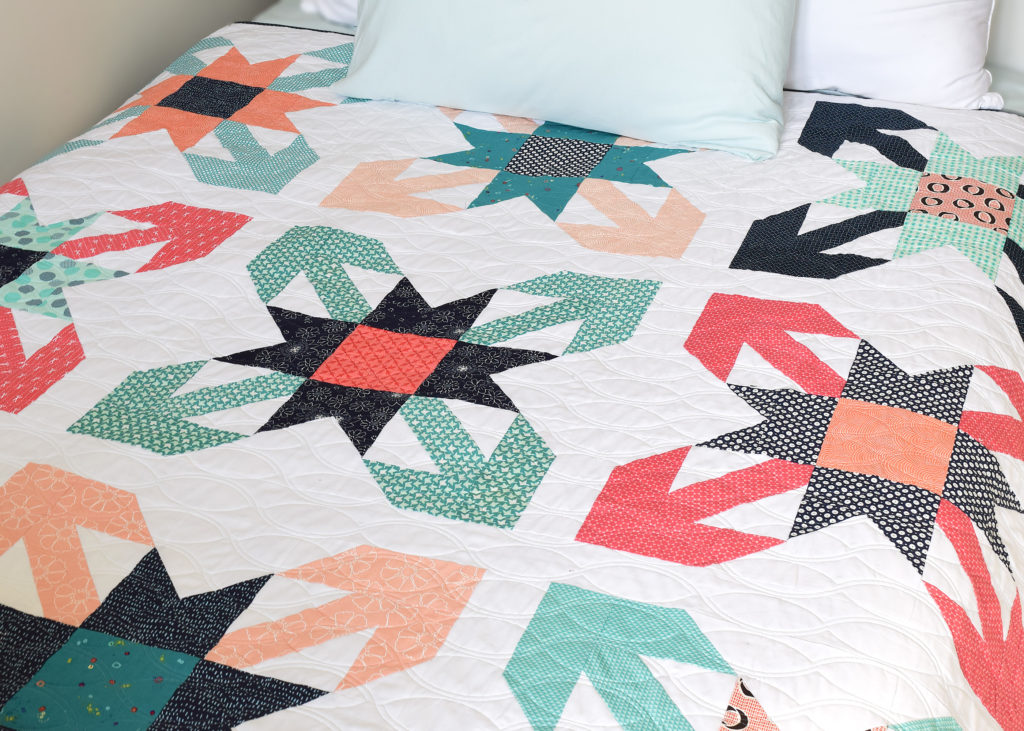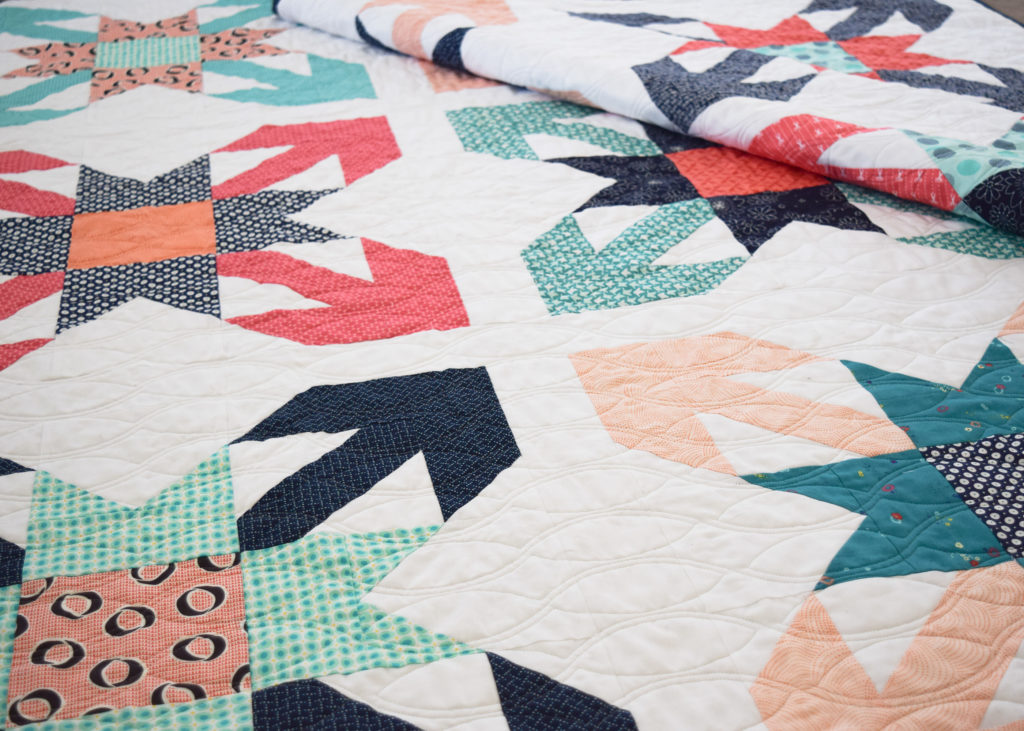 The second one I made has already had a little trip overseas where it was displayed in the Moda/United Notions booth.  Vanessa from Lella Boutique who designed this pretty Farmer's Daughter fabric line for Moda gave it a thumbs up when she saw it (phew!).   I love how soft this version is even though it uses one or two of the darker prints in the collection.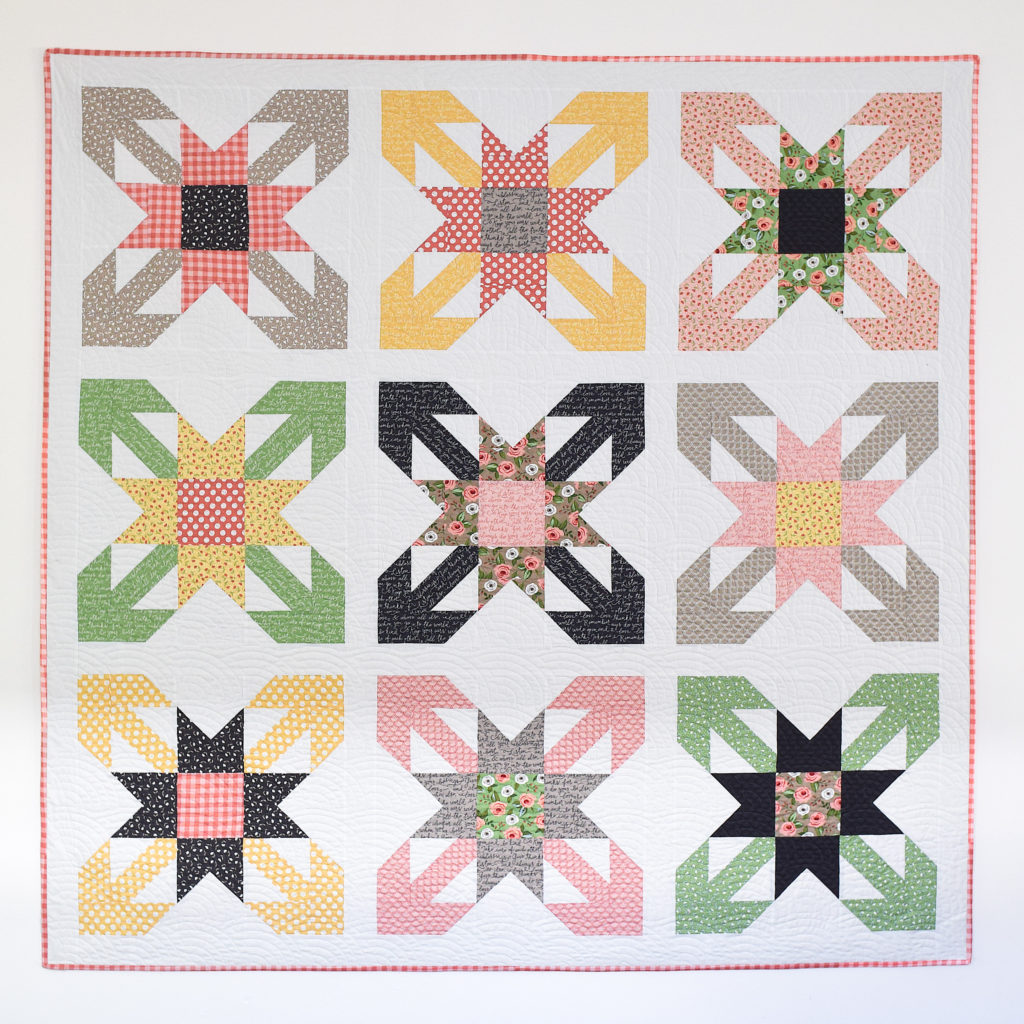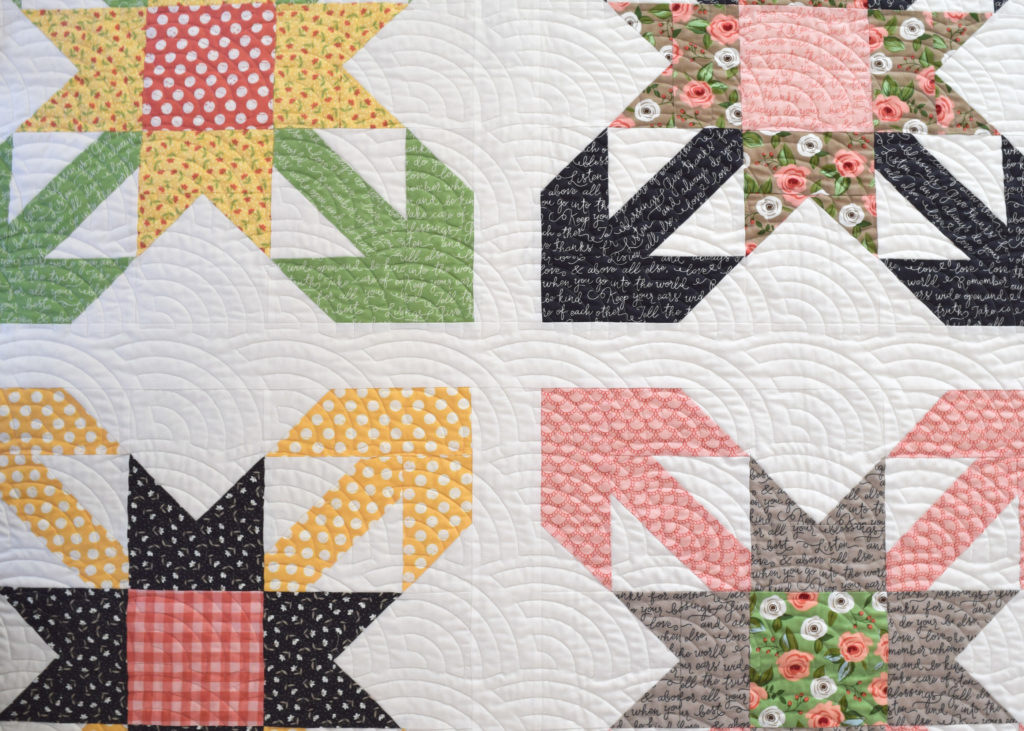 Pointed View looks like it could be a bit tricky but this is seriously one of the easiest and fastest quilts I've ever pieced.   I made each of these in just one day and I didn't even crack a sweat!.   The large pieces make it super easy to piece quickly once you have everything cut and ready to go.
More information about the fabric requirements for each of these patterns can be found in my shop.  Don't forget to use the coupons in your inbox!   If you're not a subscriber don't worry I still have something special just for you.   Use the coupon code "30OFF" to save 30% until next Monday, June 26th, 2017.  PS You can also click the sign up button at the bottom of this post to make sure you don't miss out on any coupons (or free patterns) in the future.
Happy quilting everyone,