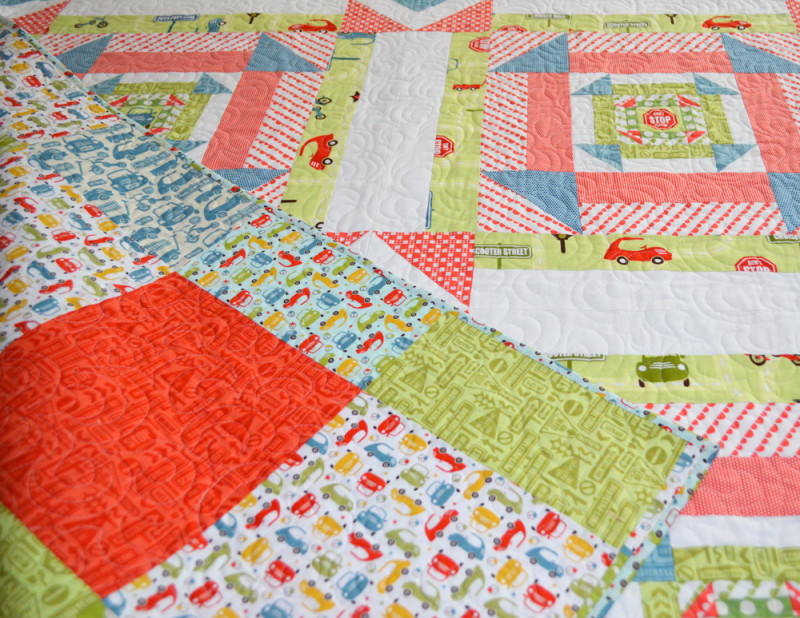 A couple of weeks ago I went along to Patches for Quilt Jane's Nested Churn Dash class.  I taught myself to quilt by reading books and magazines and looking at websites so the whole class thing is quite new to me.   Jane's class was the second one I've ever done, was brilliant, and definitely won't be the last.  Classes are a great way to meet people who speak the same language as us quilters and, its totally uninterrupted sewing time which is a huge bonus.  Thanks again Jane & Sharon for a lovely day.
If you'd like a copy of Quilt Jane's Nested Churn Dash you can grab a copy of the block pattern here.
There's a few babies arriving in our family this year so I decided to make a baby size Nested Churn Dash using boy themed fabrics.    I had both the Riley Blake Cruiser Blvd and Bonnie & Camille Happy Go Lucky fabrics in my stash and thought they looked pretty cute together.    The Cruiser Blvd main print was perfect for fussy cutting the centres of each block.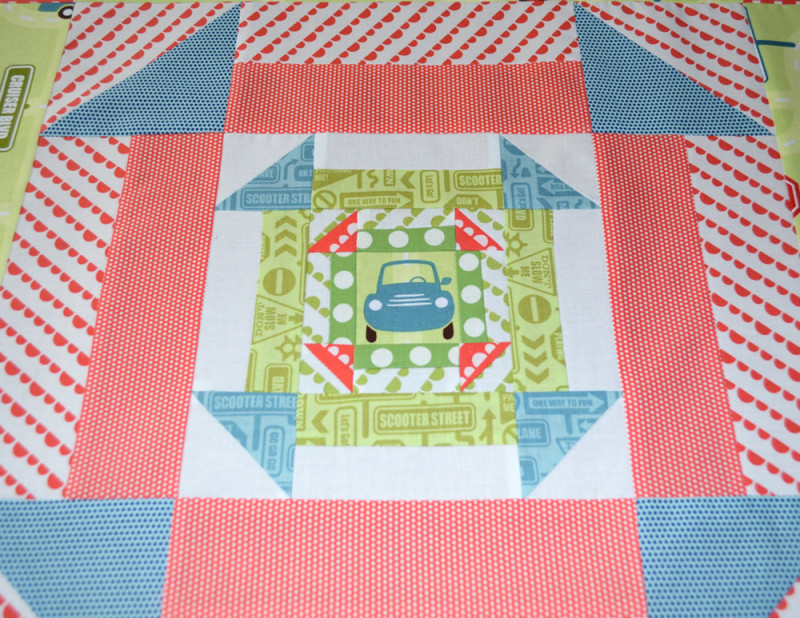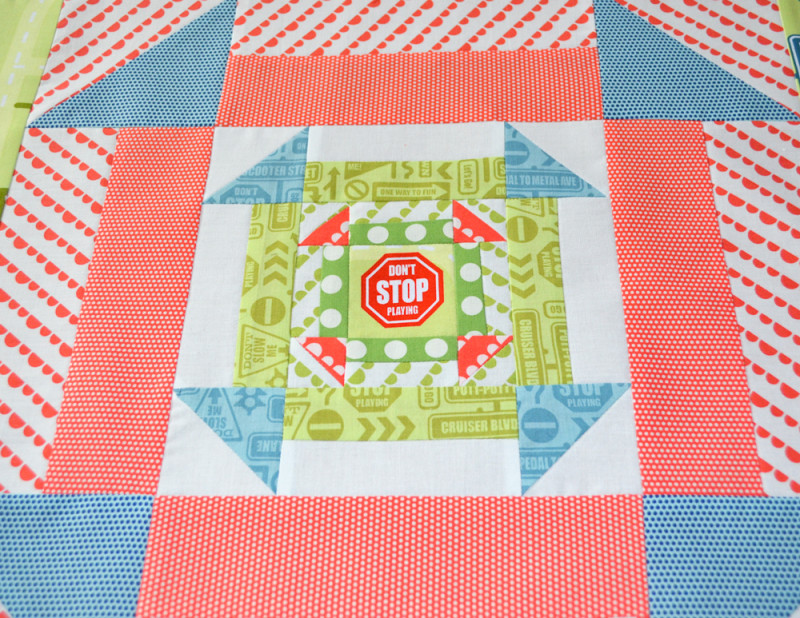 I made one block during the class and then chain pieced the final 3 blocks in record time at home. Adding corner triangles to each block also helped speed up the assembly as I didn't end up needing to cut and sew sashing.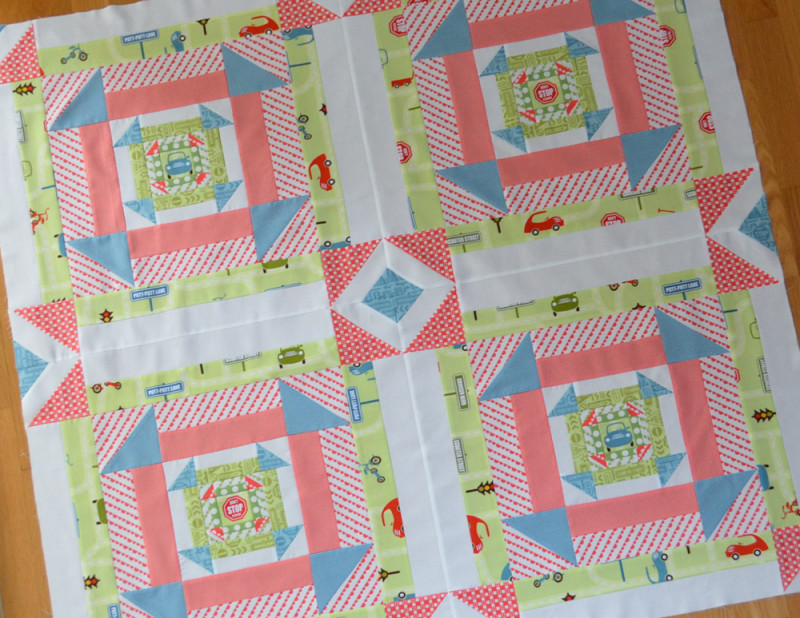 The back was a little trickier as I didn't have a single leftover piece large enough, and, I'm on a mission to use fabric I have rather than buy more.   (That probably isn't going to last with Quilt Market just around the corner!)  I ended up cutting 10″ squares and 2.5″ strips and piecing them together into a simple patchwork.   A little bit of extra work but I think it the pieced back makes a fun addition to the quilt.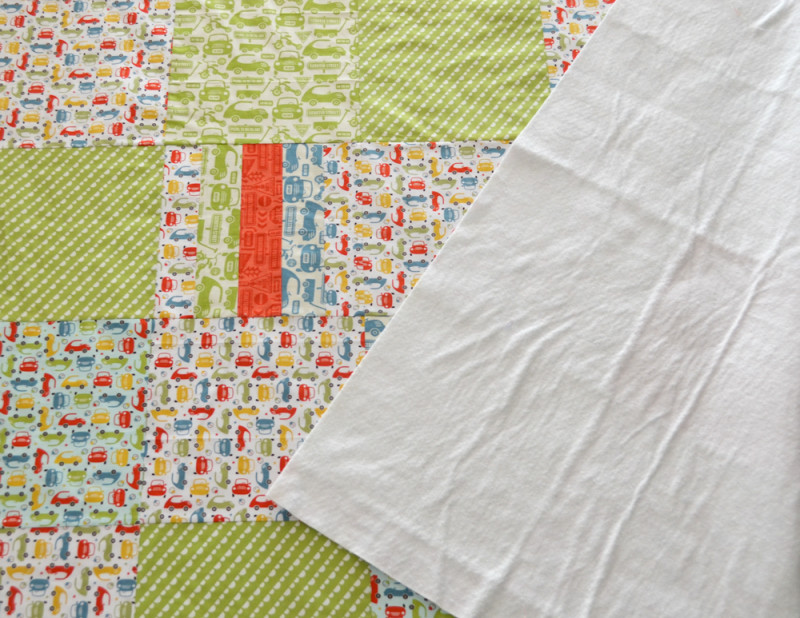 And since 2015 is my year of firsts I decided to try this, new to me, free motion quilting design I saw on Cindy Lammon's Instagram feed the other day.   Cindy called it headbands but since this is a boy quilt I think I'll have to call it swirly hoops!  Not bad for a first timer right???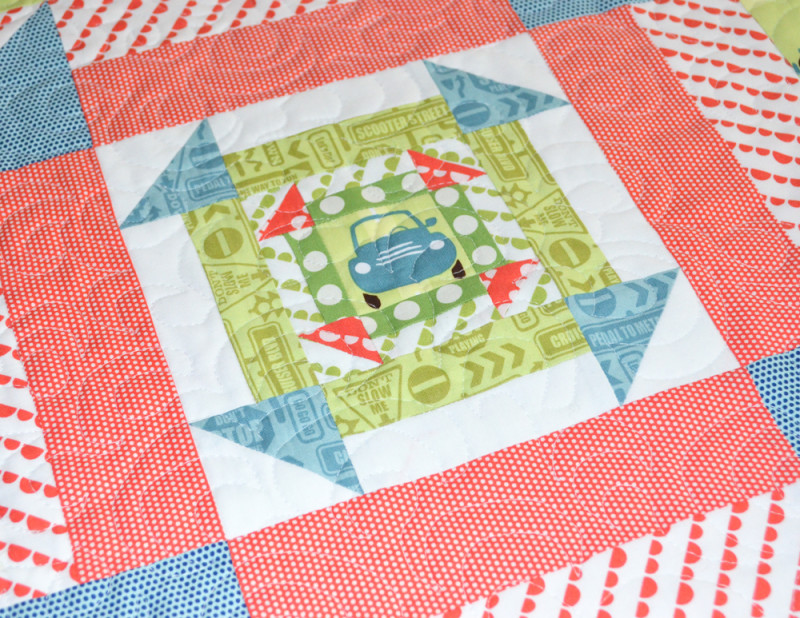 Later this week I'll be sharing my new quilt pattern Down South, I hope you'll come back and check it out.

Linking up today with Sew Fresh Quilts: Let's Bee Social!