Happy New Year!   I hope you all had a great Christmas and enjoyed the New Year's festivities.   New Year is my favourite holiday, I love a good party and, even though this year's was a little quiet, it was nice to welcome in the New Year and all its possibilities with our friends.   The 1st of January is a blank slate just waiting for us all to fill in the story.  Let hope its a positive, productive and peaceful one everywhere.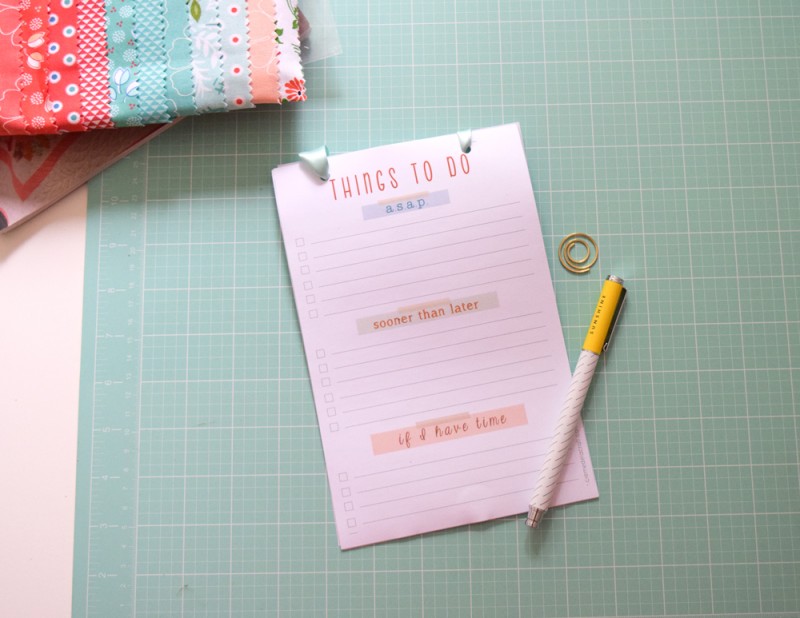 I found the cute little notepad on Pinterest recently.   Its from Creme de la Craft and is available as a free download from her site.      It's adorable isn't it!   I have mine hanging on the Vision Board I picked up from Kikki K when I was doing my Christmas shopping.
To kick things of for 2016 I thought I'd give you all a little tour of my new sewing space.   It's taken a while to get everything together but I am very happy to report that thanks to a post Christmas trip to Ikea with my sister it is finished.   It's clean, white and bright and all the messy things are stored out of site which I love.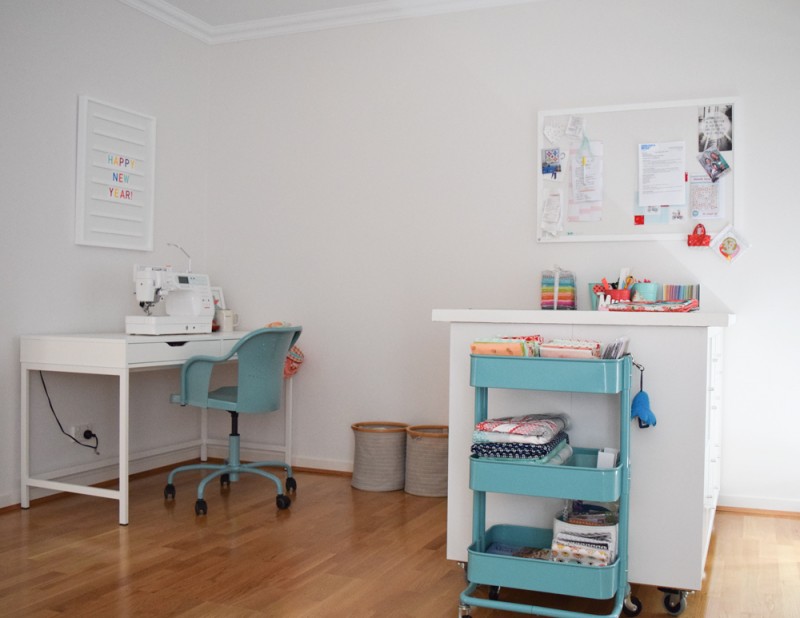 I'm not normally an Ikea girl but the Alex table and Roberget Chair were kinda perfect for the space so I grabbed them both.  Inside one of the drawers I've popped all of the things I need when I'm at the machine.   Note the number of seam rippers – they're my best friends!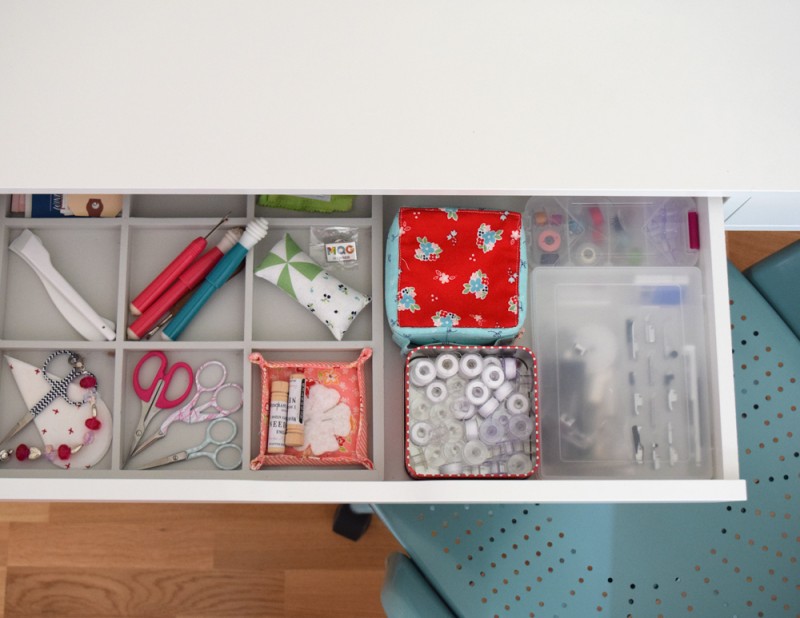 I built the cutting table myself after seeing Karen Ackva's Ikea hack from a few years ago.   The construction method was very similar to Karen's table but my table is a fair bit bigger and it has wheels so that I can move it around the room.  It's also double sided with the same combination of drawers and cupboards on both sides.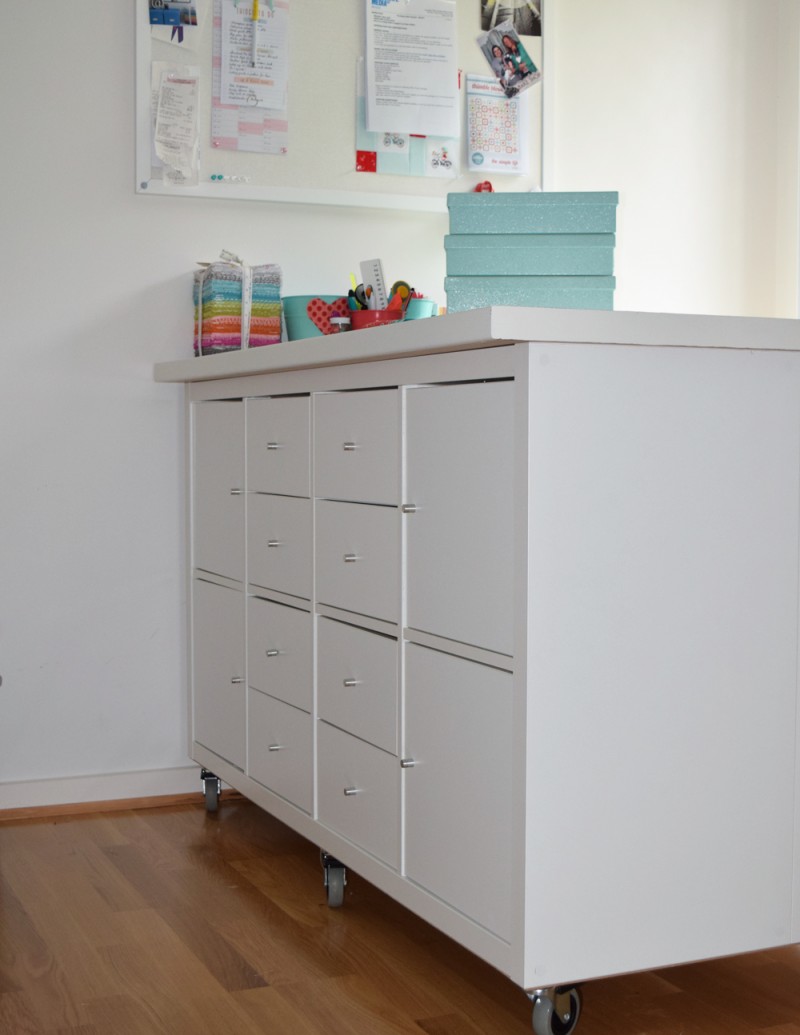 In case you're interested I used:
2 Kallax 4×2 bookshelves
2 packs of Rill castors (only six were used)
3mm MDF board cut by my local hardware 15mm shorter and narrower than the two bookshelves together
a white laminate kitten bench top from my local hardware (I have a spare bench top if anyone in Brisbane is looking to build their own cutting table).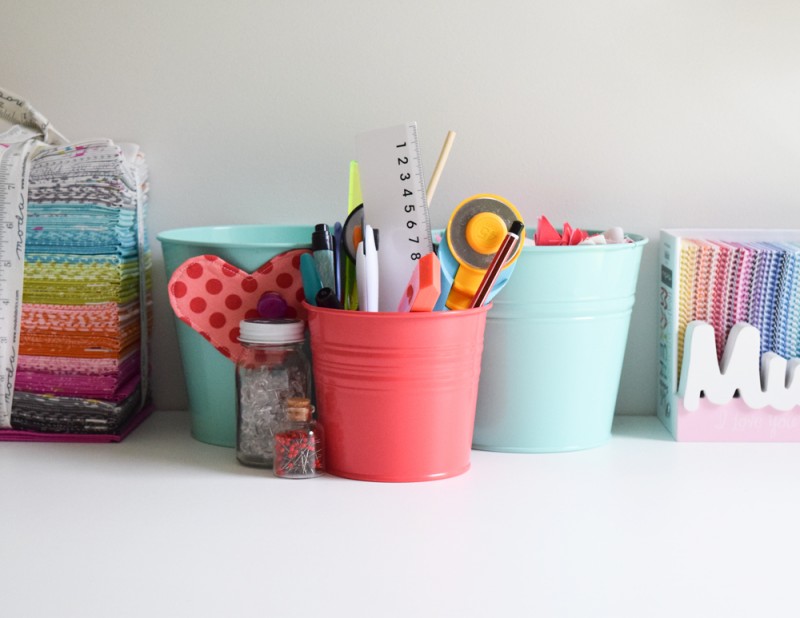 I love having everything organised and packed away so that I can access it when I need to without everything being on display.   Most of the drawers contain sewing notions and craft supplies but they're also perfect for fat quarters too (it's like Ikea knew I'd have a few!).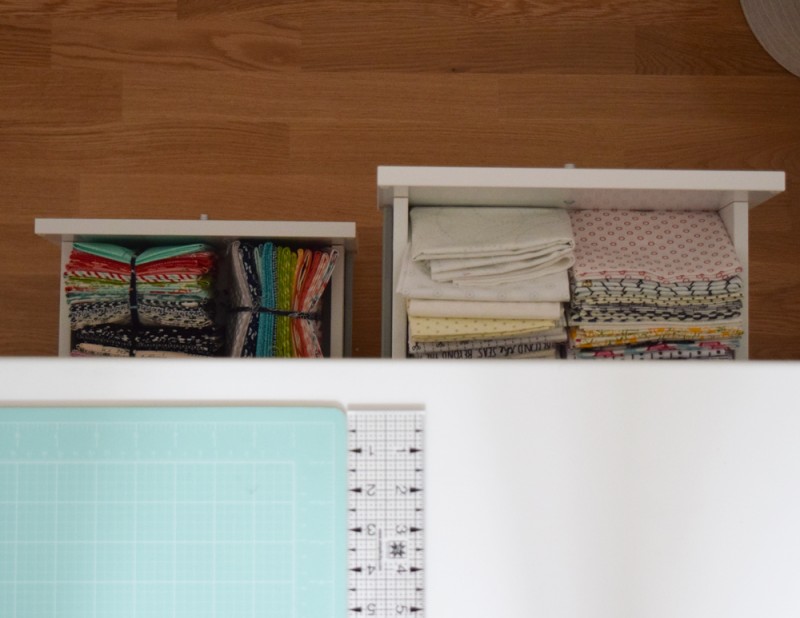 I used half of of the cupboards as they came packaged from Ikea and the other half got a little make over.   I cut the back out of them with a stanley knife so that I had a place to store bolts of fabric, long rulers, etc.     The sides were a little floppy so I got my husband to pop a few a couple of small screws in each one to hold them in place.   They may not be pretty but they are one of my favourite features of this cutting table.
My sewing space used to be a lounge room and I wasn't sure that I wanted to give it up completely.   I also didn't want to have my sewing room on display as people walk through the house from the front door so I compromised and kept some of the furniture I used to have in there.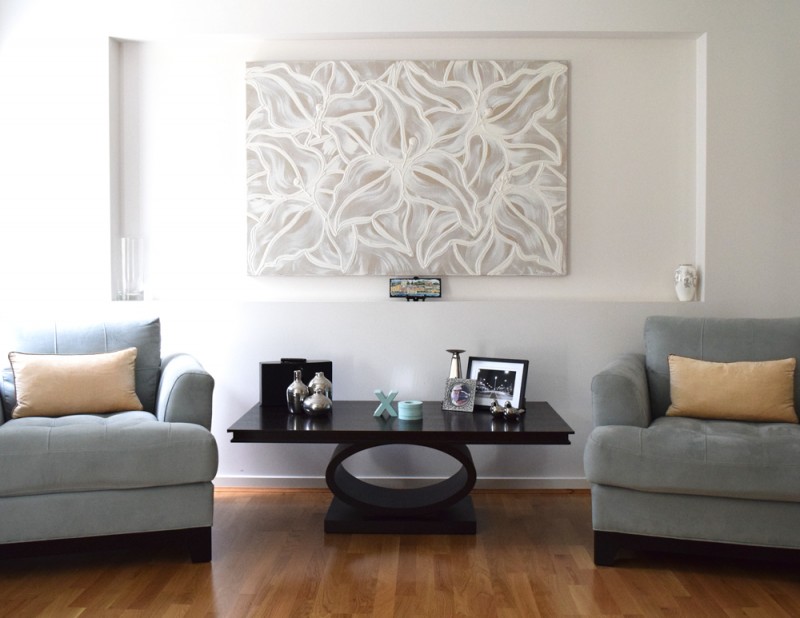 I still get to have my 'ladies lounge' where I can sit and relax and, bonus, I have a great design floor with no passing traffic to get in the way!   I couldn't be happier.
I also wanted to give a quick shout out to everyone who viewed and downloaded my Gooseberry Star Patch Quilt from the Moda Bakeshop.   I just read this morning that it was the number 3 quilt for the year on the Bakeshop and I am truly humbled and grateful to you all.  Thank you so much.